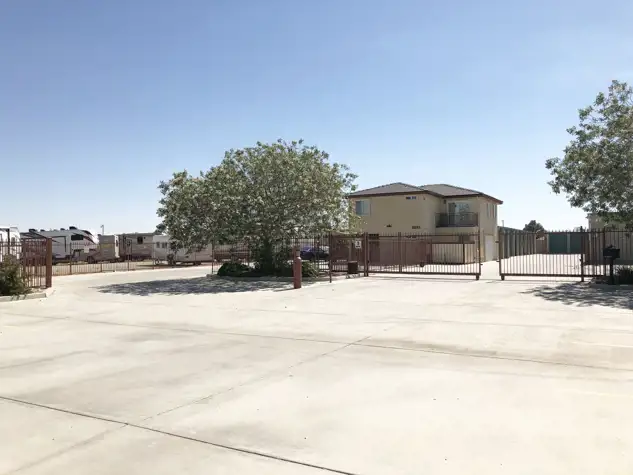 Rent or Hold Your Storage Unit in Minutes.
Location Details
ACCESS HOURS
Mon

6:00am - 9:00pm

Tue

6:00am - 9:00pm

Wed

6:00am - 9:00pm

Thu

6:00am - 9:00pm

Fri

6:00am - 9:00pm

Sat

6:00am - 9:00pm

Sun

6:00am - 9:00pm
OFFICE HOURS
Mon

9:00am - 6:00pm

Tue

9:00am - 6:00pm

Wed

9:00am - 6:00pm

Thu

9:00am - 6:00pm

Fri

9:00am - 6:00pm

Sat

9:00am - 6:00pm

Sun

Closed
FEATURES AND AMENITIES
Drive Up Access
RV Parking
Electronic Gated Access
Video Recording
Employee(s) Speak Spanish
Boxes & Moving Supplies
Kure It Certified Location
ABOUT THIS LOCATION
Learn more about our storage units near you in Lancaster, CA!
Read More
Photos
About this Location
Storage Units in Lancaster
Small Town Storage in Lancaster, CA offers storage units near you that are affordable and easy to access. Our drive-up accessible storage units come in a variety of sizes so you'll be sure to find a storage unit that accommodates all your storage needs. Our Lancaster storage facility has 24/7 video recording throughout the property and an electronic access gate that is only accessible by current tenants. We have boxes and moving supplies available for purchase in our office to help with your move into your storage unit and keep it clean and organized. Our employees also speak Spanish and are ready to answer any questions you may have about renting a storage unit.
We also offer outdoor parking spaces for RVs, boats, and automobiles. Parking space width may vary from spot to spot. Please call the property manager for more details on parking space sizes.
Easy Rental Options
Rent your storage unit online or over the phone for a quick move in. 
Not ready to rent? No worries! Reserve your unit now to lock in today's special discount.
Month-to-month rentals
No credit card required for reservations
No deposit required
Lancaster Storage Near You
Located on the corner of 3rd Street E and Columbia Way, our self storage facility is easy to access for nearby residents and commercial businesses. We're located near Edwards Air Force base and Northrop Grumman for those who are in need of storage. 
If you live in the Antelope Valley and the surrounding areas of Palmdale, Quartz Hill, Desert View Highlands, Antelope Center, Sun Village, or Del Sur then Small Town Storage is a convenient location to store your belongings.
Our facility is also conveniently accessible to residents within the zip code 93550 or in the neighboring cities of Torrance, Lakewood, Los Angeles, Lancaster, or Palmdale. Rent or reserve online now and receive up to 50% off your storage rental!
Customer Reviews
overall rating, 48 total testimonials
November 21, 2023
It 'twas good
August 23, 2023
My experience was great. I was not rushed and all my questions were answered. So far I haven't had any problems.
August 17, 2023
My overall experience at Small-town storage in Lancas was amazing. Keri was friendly, professional, and very helpful throughout the whole process. She went above and beyond to accommodate to my needs in providing all detailed information that I needed. I am grateful to have found a storage at a reasonable price on short notice. Thanks again Keri. You are amazing.
August 10, 2023
My experience was fantastic. Stephanie was amazing. I explained to her what I needed and she provided some of the best customer service I have ever experienced.
August 3, 2023
The ladies at the front desk are so nice and helpful. They made me feel comfortable leasing from their facility.
July 14, 2023
Your representative has always been helpful, knowledgeable, understanding, professional and very nice. She has been reliable and trustworthy like the perfect business partner.
June 28, 2023
Very friendly and an excellent service. Definitely will recommend
June 4, 2023
I am very grossed out and upset that I found mouse droppings on my belongings! I was not informed of the infestation.
June 3, 2023
Muy buen lugar, y Muy amable la Manager.
May 31, 2023
I have great experience with us storage center in Lancaster I really appreciate all you help me in the process thank you
May 13, 2023
My experience was pleasant started with, offered up me a beverage on a warm day she very knowledgeable help me with all information that I needed answered all my questions that I had finishing up by giving me a business card in options on how to pay Yes I would recommend Kari Villegas to a friend absolutely
April 30, 2023
No comment Horrible experience
April 25, 2023
Keri, the on site manager is Awesome... can say enough about how they run this place...
March 29, 2023
Made everything so easy
February 28, 2023
Very nice and friendly show me what other options I have
January 14, 2023
The people who helped us out, were very, very welcoming, and gave us a very welcoming tour and were very knowledgeable. I can't say nothing bad we felt very welcomed as mentioned before, and comforted, leaving our belongings here felt like we were leaving it and safe hands to say the least. The maintenance is well-kept. The place is small, but well hidden gem. It was a great find and we're glad we found it.
December 27, 2022
The costumer service was great no complaints about the employees. My only concern is , I'm not even a month old renting this storage unit and it looks like the building has a mice issue, and is it very concerning. I went to pick up some of my stuff and drops on my camping gear, some brand new. I left my two of kids car seats there and within overnight, I found drops on them too! It is very disappointed and disgusting! They did move me to a smaller unit for the mean time but it is still concerning and not fair, bc now I don't have a safe place to keep my stuff, and I think that unit might be infested too. Please check on this property…
December 8, 2022
It was great all around.
November 15, 2022
Very friendly and respectful and very understanding
November 13, 2022
Great facility, clean units and grounds , awesome staff.
November 11, 2022
Overall, excellent customer service. I was able to move in all my belongings with ease. This is very important because moving is already so stressful. I would definitely recommend this storage facility to my friends and family.
November 2, 2022
It was very nice
October 23, 2022
Very positive.
August 24, 2022
I have been with them for years and they have always been there for us when we needed them
March 21, 2022
Simply awesome and professional
March 7, 2022
I feel very comfortable and happy Kari is a beautiful person and helpful, Thank you so much.
February 27, 2022
Good service
February 4, 2022
Excellent service is very helpful
January 6, 2022
It was great so far... She explained everything to me and helped me! Storage facility is clean and organized...
November 3, 2021
Very satisfied with the representative who helped me amazing
October 13, 2021
On the phone and in the office, I received excellent customer service!
October 5, 2021
I was very happy with the service that Carrie provided, she was very helpful and accommodating with my situation.
September 21, 2021
Very nice people. But I had a bit of a problem, no one got back to me.
September 11, 2021
It was great very helpful
August 31, 2021
Good experience. Great staff!
August 3, 2021
The service was excellent. My questions were answered without making feel dumb for asking them. Great prices super affordable. The storage areas themselves were up to par and clean and ready to go. Overall it was definitely worth the money. I would rent from them again in the near future 😄
July 30, 2021
Signing up to get a storage unit was quick and easy at this location. The unit was clean and the staff was helpful and informative. My one complaint would be that the security of the locks/latches used and my unit did not seem to be very good. The screw and bolts were visible and would be able to be undone to get the lock off the door. That is my only concern.
July 27, 2021
The service was very good cleo and her husband were very helpful and kind.