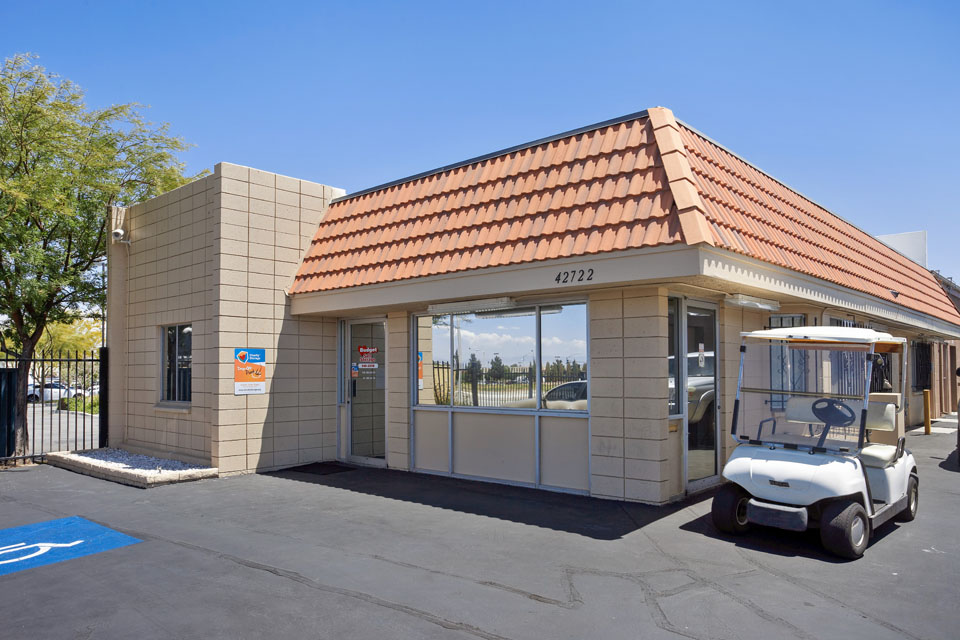 Lancaster Self Storage Units
Logout
Location Details
ACCESS HOURS
Mon

7:00am - 7:00pm

Tue

7:00am - 7:00pm

Wed

7:00am - 7:00pm

Thu

7:00am - 7:00pm

Fri

7:00am - 7:00pm

Sat

7:00am - 7:00pm

Sun

7:00am - 7:00pm
OFFICE HOURS
Mon

9:00am - 6:00pm

Tue

9:00am - 6:00pm

Wed

9:00am - 6:00pm

Thu

9:00am - 6:00pm

Fri

9:00am - 6:00pm

Sat

9:00am - 6:00pm

Sun

9:00am - 6:00pm
FEATURES AND AMENITIES
Drive Up Access
Video Recording
Employee(s) Speak Spanish
Moving Carts
Kure It Certified Location
ABOUT THIS LOCATION
Can't pass up a good deal? Store it with a Lancaster Self Storage Unit.
Read More
Photos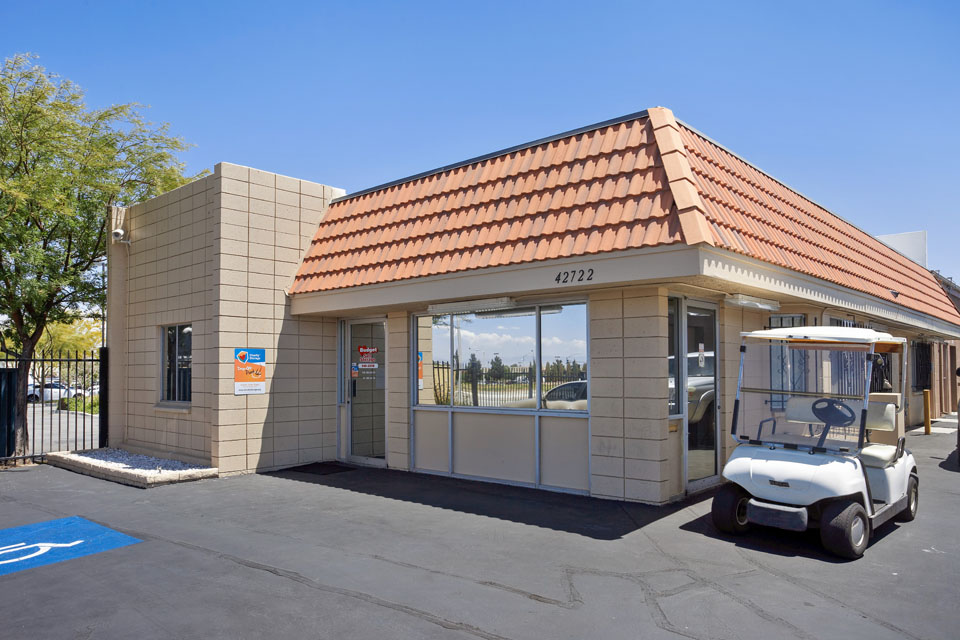 About this Location

Convenient Storage Location

Here at Budget Self Storage in Lancaster, California, we pride ourselves on our customer service and our rich history of being a member of this community for years. Our facility has been here since 1975 and we are still going strong. We welcome you to please stop in so we can give you a tour and show you why we are the best in the Antelope Valley.

Storage Units

Our storage units have convenient drive-up access and they range in sizes from 5' x 5' (about the size of a small bathroom) up to 20' x 30' (more than large enough to hold the contents of a 5-7 bedroom house). We also offer conversion units to create custom sizes for our customers.

The storage units are well ventilated and we have long-term tenants that have been here for over 16 years. Their belongings are doing great, and we'll find a storage unit that works just as well for the items you would like to place in storage.

Convenient Location

We're located on 10th street, near Avenue L., right off the 14 freeway Avenue L exit.

If you're coming from the north 14, take the Avenue L exit and make a right; shortly after that another right onto 10th street west, and we will be on the left-hand side almost immediately. From the 14 freeway south, take the Avenue L exit and make a left and another right on 10th street west, and we will be on the left-hand side.

El Toreo Mexican restaurant, Carl's Jr and Panda Express are adjacent to us; and we're kitty-corner to the Costco shopping center near the Wendy's. Lancaster City Park and Lancaster Auto Mall are just north of us. Air Force Plant 42 is to the south-east.

Spotting us from the street is easy. Our brown and beige building has a tall red, white and blue sign that says Budget Self Storage. There's also a logo on our building with a heart and our name.

Professional Managers

We hold the treasures of our community and that's important to us. People come here and they trust our facility with the safekeeping of some of their most precious belongings.

Recently, there was an evening, near closing time, when a customer came into our office after traveling 35 miles to find a quality storage facility. She had finished a long, difficult day at work, and she needed a place to store her precious items that no longer had a place at home.

After carefully listening to her needs, we took her on a quick tour of some storage units that would work perfectly for her situation. The customer mentioned that she traveled far because the storage facility near her house didn't inspire her trust. "Let's go and sign the papers," she said after choosing a unit. "I know my belongings will be safe here."

This was an amazing day for us because this woman could have gone anywhere, but we won her over because she trusted us to store her belongings.

People regularly recommend us to their family and friends because of our attention to detail, our knowledge and experience, and because we always follow up with every customer to make sure everything is working for them. We've been part of the community since the 1970's, and we have many repeat and long-term customers. Several people come in and say they heard of us from their Mom, Dad or even Grandma.

Languages: Our team is fluent in English and Spanish

Security Features

Making sure your items are secure is one of our top priorities. At our well-lit facility, we have 24-hour video recording, gated access, and onsite managers.

Payment Options

Taking care of your payment is easy. We offer several payment options including MasterCard, Visa, cash, check, and money order. Online payments are also available.

Convenient Hours

Office Hours: Monday - Sunday 9:00am – 6:00pm

Access Hours: 7:00a – 7:00p (Seven days a week—including holidays)

Our Community

Here in Lancaster, we are a thriving desert community that has come a long way from even 10 years ago. The Antelope Valley is home to thousands of jobs in the aerospace field.

Lots of people enjoy recreating at Mulligans Family Fun Center. A great place to go and have fun with the family. Also, don't forget to stop by Downtown Lancaster and check out all the antique shops, bistros, coffee shops, and the Museum of Art and History (MOAH).

Products

We carry boxes ranging in sizes small, medium, large, and x-large.

Boxes specifically for packing glasses and dishes are available—the box includes a partition for added protection.

We sell mattress covers, chair and sofa covers, and storage bags for various items that can be completely enclosed for your peace of mind.

A moving kit is also available at a discounted rate and it contains boxes (various sizes), packing tape, bubble wrap and additional supplies.

Call our Lancaster storage facility at (661) 855-4274
Customer Reviews
overall rating, 143 total testimonials
January 27, 2020
Aly was very helpful.
January 21, 2020
Juan was a consonant professional throughout the process.great communication skills.
January 12, 2020
Juan and Aly are very informative and friendly! I had a very easy time with them both. I recommend Budget self storage for anyone who has need. The first 2 months were half off, I felt good and rented with them! Ken P
January 5, 2020
very pleasant
December 31, 2019
Excellent service by Juan.
December 8, 2019
Customer service is amazing here
December 4, 2019
I really like your staff aly and Juan . They both definitely make my experience awesome and easy. Both Aly and Juan are very helpful with anything regarding our unit. I enjoy there humor and easy going personalities
November 23, 2019
Good experience. Good customer service.
November 17, 2019
Your staff that signed me up was helpful and friendly. Helped me find storage that actually fit all of our stuff.
November 14, 2019
Staff are friendly all around. They provide me with useful tips on how to prepare for moving in my stuff. Overall, I had an excellent experience, all I have to look forward to is how my stuff fared with the weather changes whilst I'm away.
October 24, 2019
If anyone is looking for a no frills storage, this is the place. Just what we were looking for. Thanks
October 18, 2019
Very friendly and helpful with questions to know about the storage spaces. Thank you 😊
October 17, 2019
Convenient, fast, and friendly service. Very accommodating unit location. Same day service excellent.
September 30, 2019
Very good
September 26, 2019
I was highly satisfied the service represenative that helped me was professional courteous fast quick and prompt..
September 18, 2019
Very quick, efficient and friendly. Showed me a couple different units so i could choose what would work best for me
September 14, 2019
I felt good dealing with Juan he has a great personality. And really good customer service. I will recommend to my friends.
September 6, 2019
Staff was helpful and friendly
September 1, 2019
Nice staff friendly and made sure we didn't have questions
August 13, 2019
thank you for being nice and helping with all of our answers.
August 6, 2019
The guy who work there was very very helpful I appreciate him very much.
August 6, 2019
The staff was very helpful and friendly. Storage area was clean and even though building is in the dessert it was not too hot, unlike some other storage facilities in the area.
July 18, 2019
Knowledgeable and friendly! Great experience! Made it easy. Would recommend to anyone.
May 2, 2019
Very helpful and friendly environment. Have two storage units now.
April 22, 2019
Great customer service! Very friendly and helpful!
April 20, 2019
Very good quick found what I was looking for as far as size and the price right on the money what I was looking for
April 18, 2019
My experience was great. Vincent explained everything to me. He got me what i needed, in less than 15 minutes. I have happy to have found Budget storage.
March 30, 2019
Staff was really helpful and understanding with our needs. Thank you
March 21, 2019
The service was helpful quick and easy. They also had a cart to help move our stuff in. Thank you
March 12, 2019
Very friendly and helpful. He was quick to help us out and just by hearing what we were putting in the storage he was able to give us a perfect size storage.
March 2, 2019
Nice customer service. Nice units.
February 27, 2019
Staff was very helpful and professional. Some confusion with the unit I booked online but the staff helped me find another unit that was both cheaper and better suited my needs.
October 25, 2018
The customer service representative was very helpful and worked hard to satisfy all our requirements. Highly recommended.
October 16, 2018
Super easy to get set up- best customer service I had trying to get a unit. I went to three other companies first- 2 no one was around and the 3rd was working on something on his computer and I got tired of waiting. Best pricing and service all around.
October 10, 2018
Vincent was as accommodating as he could be under the circumstances, but I resent that my original agreement with the same company at a location 1 mile down the road was NOT met since they were closed on Sunday despite the fact that I have an Email to them stating my move in date would be Sunday, October 7 between 1:30-2:30 PM!!!! This cost me an additional $150/hour in mover's time! I want my original agreement met which is: $170.50/month with the first FOUR months promotional price of $135.00 per month met. The price I'm paying now will cost me an additonal $1,976.00/year and I cannot afford that since I'm a Senior Ctizen living on a very Fixed Income!
October 9, 2018
This place rocks The employers Vincent and Juan rock! Great place imho Mark R
August 29, 2018
Your associate was curtious, thorough and informative.
August 16, 2018
very please with information provided to me prior to lease of storage space
July 29, 2018
No problems, no hassles and very reliable. I will recommended to family and friends.
July 11, 2018
Great very helpful and friendly. Answered all our questions. Loved the customer service.
July 7, 2018
Very polite and helpful
July 6, 2018
First of all I had called on the phone and thought I was talking to the person at the storage facility. I come over to the facility and find out I spoke to someone at a call center that is very deceptive and I did not like that at all about this company!Somebody should be telling you that over the phone!The girl at the facility was lovely,wonderful & helpful I highly recommend this location.
July 4, 2018
HAVIJG HAD HORRIFIC SELF STORAGE EXPERIENCE IN THE RECENT PAST EVERYTHING FROM VERMIN BOXES STOLEN STOLEN CROOKED PROPERTY MANAGER AND I REALLY COULD GO ON JUAN IS GENUINE AND REALLY UNDERSTANDS CUSTOMER SERVICE CAN HE POSSIBLY BE CLONED? HIS PARENTS REALLY RAISED HIM TO PERFECTION
June 21, 2018
Do not let first impressions push you away. They were very professional and when the one size was to small they helped us find another right away. The until was clean and easy to access as well.
June 19, 2018
Courteous speedy efficient customer service. Cant go wrong going here.
June 12, 2018
It's a good experience. The staff is knowledgeable and helpful. All my questions were answered.
June 6, 2018
We have 8 storage units with the lancaster company and the staff is great Juan and Teresa are the best always willing to lead a helping hand.
May 26, 2018
Very straight forward signup, fast and efficient thanks to Juan. Not the best prices but comparable and fair.
May 24, 2018
Great experience moving in. The manager Juan was very professional and got me checked in super fast.
May 24, 2018
Juan is great, the whole process of getting a unit was quick and painless. He knows what he is doing
April 26, 2018
staff is great!!!! its the company thats the problem a good portion of people are trying to save their property and perhaps having a difficult time already and at the rate you raise prices its ridiculous
April 19, 2018
I should have written a review a while ago. I apologize! This company is terrific. The customer service is top notch, and they go out of their way to make their customers feel welcome, and satisfied. Juan and Theresa are great customer service representatives, and the company should be proud of them! Prices were reasonable and fair, and the grounds look well kept. I am glad I found this storage, too bad I did not a long time ago. I would have saved myself some headaches!
April 10, 2018
The staff was very helpful, Juan was very professional and polite he even offered me water. Juan helped me get just the right size unit for what I needed. Very happy with Budget self storage 😀
April 7, 2018
The staff there are very professional ,helpful and kind,thank u guys!!!
April 3, 2018
I didn't get a reminder on my first month payment and it's the 3rd of the month. It's a new bill. Hopefully I get a break on late fee.
March 20, 2018
Good place to storage.. friendly staff..
March 3, 2018
Nice and verry we'll info outstanding completed satisfied with this place I would definitely recommend
March 2, 2018
The guy attending is great, polite, all the information accurate, he show us the units willingly and fast, we love the service; place is clean, prices fair. We loved everything.
February 6, 2018
The manager was very professional and helpful. He did his best to find me the type of unit i was looking for. I'm very satisfied so far.
February 6, 2018
I love it here the unit has adequate space and was very clean and the man of the hour Juan was very professional,helpful and nice,thank u
February 2, 2018
The staff was very nice, helpful & courteous.
February 1, 2018
The folks at Budget Self Storage in Lancaster are the best! They went above and beyond for me, helping me to get situated in a short amount of time at a good price. Highly recommend!!
January 26, 2018
Very nice young lady who helped me in my time of need thank you guys she should get a raise.
January 21, 2018
This is our 2nd time and if need be would use again . Clean , convenient, pleasant. And helpful .
January 19, 2018
This was my first time using a Storage unit and the staff was very helpful and professional. I would definitely recomend Budget Storage to anyone that needs a storage unit.
January 17, 2018
They are fast friendly and very knowledgeable and very helpful in helping me pick the right size storage and also loaned me equipment to help men's able unload quickly
January 13, 2018
I employee was super nice and helpful. He went over all the rules and informed me when my payment was due. Thank you
January 8, 2018
Very friendly and helpful
January 6, 2018
Fast, easy, friendky
January 5, 2018
Very comfortable and the guy who helped us was very helpful and answered all of our questions and very thorough. All in all was a very very good experience
January 2, 2018
good people that work there
December 31, 2017
Juan was very helpful and had great customer service made my experience memorable great prices
December 17, 2017
Great good customer service
November 21, 2017
Great Professional
November 12, 2017
VERY FRIENDLY .. HELP ME BEST STORAGE TO FIND MATCH MY NEEDS .. GOOD PRICE
November 10, 2017
Very easy and quick. The man that helped us was very friendly and very helpful u should keep him around
November 10, 2017
Great unit for the price. Staff is wonderful.
November 7, 2017
The staff in the Lancaster facility was amazing! Very friendly and explained everything in understandable terms. The facility was very clean, and the staff went out of their way to be helpful. They even delivered ice cold bottled water to my moving crew! Good job Budget! I will recommend your facility to all that are in need of storage units!
November 6, 2017
Great offers on price..service awesome!
October 31, 2017
Juan has very good customer service he knew exactly what i need it, well maner and very polite... great person great location..
October 25, 2017
Juan was and is a very nice. Gentleman. He explained everything we needed to know and very informative.
October 5, 2017
I was very happy great customer sevice the guy that was helping me was very nice.
September 16, 2017
The experience was fast and pleasant
August 26, 2017
It was great customer service real fast didn't take much time at all would highly recommend
August 24, 2017
great, thank you. Great service, friendly and easy move in. My brother had also rented here with no problems.
August 16, 2017
Great experience! The staff was very friendly and knowledgeable as well as helpful. I was given a tour of the facility, a choice of sizes and all the information I needed to get my storage started. Great experience so far!
August 10, 2017
Every Nice place
August 5, 2017
Very helpful and gave me a good deal on the unit that other storage facility's charged a lot more for also convenient location and hours
August 3, 2017
So far it has been good, convenient, and welcoming. Juan was very helpful. Thanks
July 27, 2017
Great so far!
July 25, 2017
Very nice customer services
July 7, 2017
It's was great as it usually is. Treated like a VIP
June 9, 2017
The young man was very patience and thorough with me when signing up Yes he is definitely a peoples person which is hard to find these days
June 8, 2017
They have fantastic service. The facility is clean, safe, and convenient.
May 18, 2017
Juan was excellent in his delivery of the storage space and all of the most important aspects of our being storage tenants at Budget Self Storage. We received perfect service and each a bottle of cold water while we worked to pack our storage space. Thanks so much!
May 5, 2017
The attendent you had working was great i feel i couldnt got any better servise then i did that day i will tell anyone i can about your store thankyou
April 28, 2017
I felt right at home
April 28, 2017
Very nice and helpful staff
April 28, 2017
Juan the manager was very nice and helped me a lot
April 24, 2017
Excellent ....Juan I think that's his name is amazing and nice ,handsome 😍
April 21, 2017
Alejandro did a great job of giving me all the information I'd need to know. Was very helpful,polite,friendly
April 6, 2017
Juan is super friendly and I very accommodating to my needs
April 6, 2017
Everyone was friendly and professional. This is the third time I've stored things with your company. Rates are reasonable and units are clean.
April 6, 2017
I super like the friendly and awesome customer service that I received so far! I am very happy with my experience so far!
March 31, 2017
Juan & Alejando were Very professional, informative & friendly.
March 30, 2017
Great!! I feel my business was wanted. I was treated with the utmost kindness and respect. Help was their anytime I needed it. Most of all He didn't try to sell me space or anything els I didn't need!! Recommend very highly. Also I feel my stuff is safe there from people or mice!! Gwen Creese
March 17, 2017
So far it's been great, close to where I needed it and the price is great for these first 2 months!
February 26, 2017
Thank you, Alejandro was very professional and amazing and I was glad that they had a unit available for me.
February 16, 2017
We were treated very well
February 9, 2017
It's been pretty great
February 7, 2017
Helpful and efficient!
January 18, 2017
Service was outstanding.
January 18, 2017
I absolutely loved the service here. The two gentlemen were very nice and energetic and they made sure my experience was safe and comfortable. The storage space is very clean and easily accessible. I would recommend this location as a first choice to ANYONE. Thank you, Budget team.
January 11, 2017
Very good customers service and friendly!
January 6, 2017
Very good customer service 👍🏿
December 30, 2016
Everyone was very kind and helpful
December 22, 2016
The best service ever. I felt really great after leaving.
December 14, 2016
GREAT, FAIR AND EFFICIENT!!
December 12, 2016
Great job!