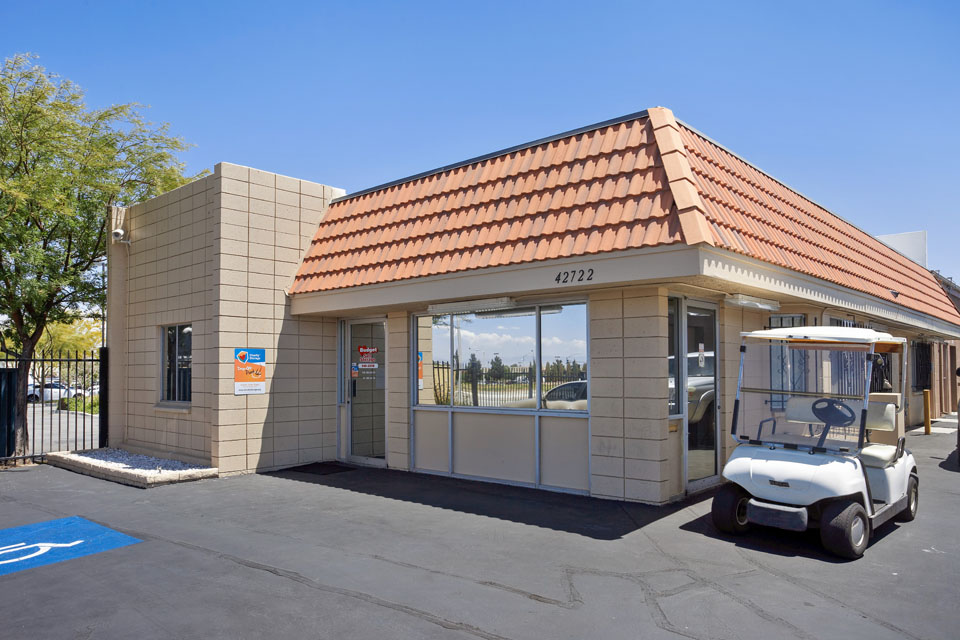 Lancaster Self Storage Units
Logout
We are open during normal office and gate hours. Our Online Rental Is Contact-Free and Easy.
Location Details
ACCESS HOURS
Mon

7:00am - 7:00pm

Tue

7:00am - 7:00pm

Wed

7:00am - 7:00pm

Thu

7:00am - 7:00pm

Fri

7:00am - 7:00pm

Sat

7:00am - 7:00pm

Sun

7:00am - 7:00pm
OFFICE HOURS
Mon

9:00am - 6:00pm

Tue

9:00am - 6:00pm

Wed

9:00am - 6:00pm

Thu

9:00am - 6:00pm

Fri

9:00am - 6:00pm

Sat

9:00am - 6:00pm

Sun

9:00am - 6:00pm
FEATURES AND AMENITIES
Drive Up Access
Video Recording
Employee(s) Speak Spanish
Moving Carts
Kure It Certified Location
ABOUT THIS LOCATION
Can't pass up a good deal? Store it with a Lancaster Self Storage Unit.
Read More
Photos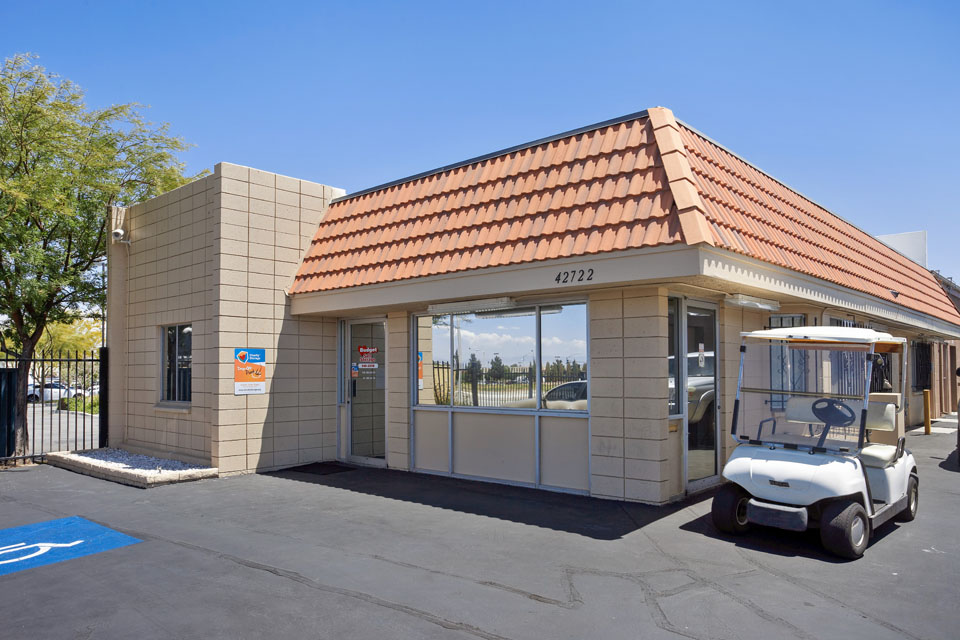 About this Location

Convenient Storage Location

Here at Budget Self Storage in Lancaster, California, we pride ourselves on our customer service and our rich history of being a member of this community for years. Our facility has been here since 1975 and we are still going strong. We welcome you to please stop in so we can give you a tour and show you why we are the best in the Antelope Valley.

Storage Units

Our storage units have convenient drive-up access and they range in sizes from 5' x 5' (about the size of a small bathroom) up to 20' x 30' (more than large enough to hold the contents of a 5-7 bedroom house). We also offer conversion units to create custom sizes for our customers.

The storage units are well ventilated and we have long-term tenants that have been here for over 16 years. Their belongings are doing great, and we'll find a storage unit that works just as well for the items you would like to place in storage.

Convenient Location

We're located on 10th street, near Avenue L., right off the 14 freeway Avenue L exit.

If you're coming from the north 14, take the Avenue L exit and make a right; shortly after that another right onto 10th street west, and we will be on the left-hand side almost immediately. From the 14 freeway south, take the Avenue L exit and make a left and another right on 10th street west, and we will be on the left-hand side.

El Toreo Mexican restaurant, Carl's Jr and Panda Express are adjacent to us; and we're kitty-corner to the Costco shopping center near the Wendy's. Lancaster City Park and Lancaster Auto Mall are just north of us. Air Force Plant 42 is to the south-east.

Spotting us from the street is easy. Our brown and beige building has a tall red, white and blue sign that says Budget Self Storage. There's also a logo on our building with a heart and our name.

Professional Managers

We hold the treasures of our community and that's important to us. People come here and they trust our facility with the safekeeping of some of their most precious belongings.

Recently, there was an evening, near closing time, when a customer came into our office after traveling 35 miles to find a quality storage facility. She had finished a long, difficult day at work, and she needed a place to store her precious items that no longer had a place at home.

After carefully listening to her needs, we took her on a quick tour of some storage units that would work perfectly for her situation. The customer mentioned that she traveled far because the storage facility near her house didn't inspire her trust. "Let's go and sign the papers," she said after choosing a unit. "I know my belongings will be safe here."

This was an amazing day for us because this woman could have gone anywhere, but we won her over because she trusted us to store her belongings.

People regularly recommend us to their family and friends because of our attention to detail, our knowledge and experience, and because we always follow up with every customer to make sure everything is working for them. We've been part of the community since the 1970's, and we have many repeat and long-term customers. Several people come in and say they heard of us from their Mom, Dad or even Grandma.

Languages: Our team is fluent in English and Spanish

Security Features

Making sure your items are secure is one of our top priorities. At our well-lit facility, we have 24-hour video recording, gated access, and onsite managers.

Payment Options

Taking care of your payment is easy. We offer several payment options including MasterCard, Visa, cash, check, and money order. Online payments are also available.

Convenient Hours

Office Hours: Monday - Sunday 9:00am – 6:00pm

Access Hours: 7:00a – 7:00p (Seven days a week—including holidays)

Our Community

Here in Lancaster, we are a thriving desert community that has come a long way from even 10 years ago. The Antelope Valley is home to thousands of jobs in the aerospace field.

Lots of people enjoy recreating at Mulligans Family Fun Center. A great place to go and have fun with the family. Also, don't forget to stop by Downtown Lancaster and check out all the antique shops, bistros, coffee shops, and the Museum of Art and History (MOAH).

Products

We carry boxes ranging in sizes small, medium, large, and x-large.

Boxes specifically for packing glasses and dishes are available—the box includes a partition for added protection.

We sell mattress covers, chair and sofa covers, and storage bags for various items that can be completely enclosed for your peace of mind.

A moving kit is also available at a discounted rate and it contains boxes (various sizes), packing tape, bubble wrap and additional supplies.

Call our Lancaster storage facility at (661) 855-4274
Customer Reviews
overall rating, 150 total testimonials
March 22, 2020
I had a great experience checking in. Customer Service was great.
February 28, 2020
Experience was great. Very professional. I would highly recommend this place of business
January 27, 2020
Aly was very helpful.
See All 150 Reviews
See All 150 Reviews