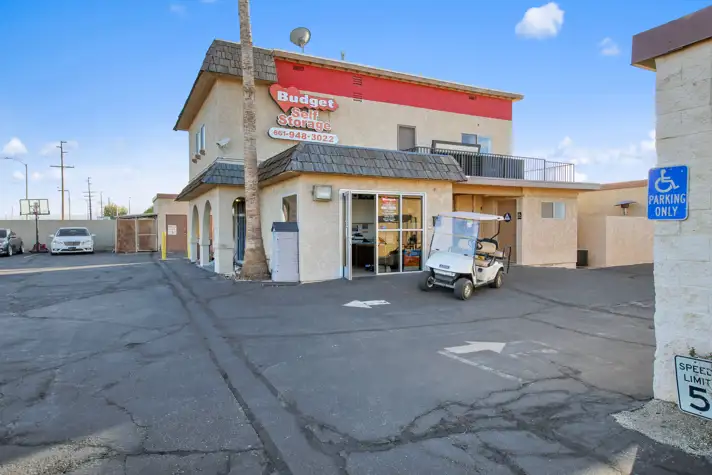 Rent or Hold Your Storage Unit in Minutes.
Location Details
ACCESS HOURS
Mon

7:00am - 7:00pm

Tue

7:00am - 7:00pm

Wed

7:00am - 7:00pm

Thu

7:00am - 7:00pm

Fri

7:00am - 7:00pm

Sat

7:00am - 7:00pm

Sun

7:00am - 7:00pm
OFFICE HOURS
Mon

9:00am - 6:00pm

Tue

9:00am - 6:00pm

Wed

9:00am - 6:00pm

Thu

9:00am - 6:00pm

Fri

9:00am - 6:00pm

Sat

9:00am - 6:00pm

Sun

Closed
FEATURES AND AMENITIES
Drive Up Access
Video Recording
Employee(s) Speak Spanish
Kure It Certified Location
ABOUT THIS LOCATION
Palmdale, CA Storage Units
Read More
Photos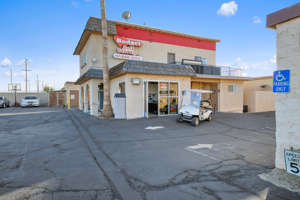 About this Location
Facility Description
Budget Self Storage in Palmdale, California is proud of its clean units. We have units ranging in size from 4' x 4' to 20' x 25', covering the whole gambit of your storage needs. Even better, all of our units are ground level and drive up accessible. You can literally drive right up to your unit, unload, and be on your way in a matter of minutes.
Easy Rental Options
Rent your storage unit online or over the phone for a quick move in. 
Not ready to rent? No worries! Reserve your unit now to lock in today's special discount.
Month-to-month rentals
No credit card required for reservations
No deposit required
Facility Features

We have 24-hour video recording of the facility from many different viewpoints to ensure we are seeing what is happening on the grounds.  Our staff is friendly and knowledgeable; they can answer any question you have and address any concerns that arise. We'll take you on a tour of our facility, show you your storage options, and give you advice on the best way to utilize your storage unit. No matter what you need, we have the storage solution for you.

Conveniently Located

We are located on 10th Street West, south of Avenue M and Columbia Way, just around the corner from the 14 freeway.

There is a Mobil gas station (used to be a Valero) on the corner of 10th St West & Columbia Way. Heading south on 10th Street West you will pass the Mobil on your right hand side and an empty dirt lot. We will be right after the lot before you get to Sierra Business Park.

Our building is currently painted brown and beige with a red stripe, that matches our logo, across the top of the 2nd story by the office.

In addition to Palmdale, many or our tenants live in the neighboring communities of Littlerock, Pearblossom, and Desert View Highlands. We also have quite a few businesses from around the area that use our facility for storage.

Forms of Payment

It's easy to pay your bill! We accept cash, checks, money orders, Visa, and MasterCard. You can also pay online through our client login.

The Community

Palmdale, California is separated from Los Angeles by the San Gabriel Mountain range and over the past 25 years has been consistently ranked among the top 25 fastest growing cities in the United States.

The Bouquet Reservoir is 15 miles west of Palmdale and is formed by the Bouquet Canyon Dam, but if you really like water, head to Dry Town Water Park where slides, pools, and a lazy river can help you cool off in the heat.

While you're exploring the Sierra Pelona Mountains on your day off, you won't have to worry one second about your valuables stored in your US Storage Centers self-storage unit.

The Antelope Valley (AV) is home of the Poppy Festival. When they are in bloom it is a lot of fun to drive out to the poppy fields and take a nice hike or even park off to the side of the road and take some pictures. There are poppies for miles in every direction. Also, if you like to hike there is Devils Punch Bowl where you can choose an all day hike or a short one, either way you will see some beautiful scenery.

Facility Products

Our top seller is of course our disc locks. We offer a single pack where it just has one lock or a double pack where it has two disc locks that are keyed alike. (These are great for our really big units that have more than once door to access!) We also offer: Rope, Wrapping Paper (like newspaper, but it's clean!), Sofa Covers, Chair Covers, Mattress Covers (King/Queen and Twin/Full), Dust Covers, Tape, Picture Moving Kits and of course Boxes! (Wardrobe boxes, X-Large, Large, Medium and small!)

Professional Managers

Our managers are friendly and helpful, but also have a lot of knowledge about the industry. They have been with the company for years and are normally willing to go above and beyond.

Kure It Participating Facility

Philanthropy is a big part of the US Storage Centers family. Our facility is a proud member of Kure It Round up for Research. Kure It, founded by US Storage Centers chairman Barry Hoeven, raises money for innovative research into many types of cancer that receive little or no funding.


Customer Reviews
overall rating, 227 total testimonials
September 22, 2023
My salesperson was very attentive and explained everything in great detail, she was very easy to talk with I absolutely loved my experience with her.
September 22, 2023
Very clean respectful, I really like this place
September 8, 2023
I delt with Stephenie, she was so nice an professional, I would recommend to other people, thank you Stephenie.
September 5, 2023
Great staff and set-up, thanks Stephanie!
August 9, 2023
Very smooth and the lady were extremely helpful. They answered my question and gave me options!
August 9, 2023
.. the staff is just so nice .. jamie is just so kool .. I like her !!
August 1, 2023
Jamie had an excellent costumers service 100% :)
See All 227 Reviews
See All 227 Reviews