Rent or Hold Your Storage Unit in Minutes.
Location Details
ACCESS HOURS
Mon

6:00am - 10:00pm

Tue

6:00am - 10:00pm

Wed

6:00am - 10:00pm

Thu

6:00am - 10:00pm

Fri

6:00am - 10:00pm

Sat

6:00am - 10:00pm

Sun

6:00am - 10:00pm
OFFICE HOURS
Mon

9:30am - 6:00pm

Tue

9:30am - 6:00pm

Wed

9:30am - 6:00pm

Thu

9:30am - 6:00pm

Fri

9:30am - 6:00pm

Sat

9:00am - 5:00pm

Sun

10:00am - 4:00pm
FEATURES AND AMENITIES
Drive Up Access
Climate Control
RV Parking
Electronic Gated Access
Video Recording
Boxes & Moving Supplies
Moving Carts
Kure It Certified Location
ABOUT THIS LOCATION
Self Storage Units in Orlando, Florida
Read More
Photos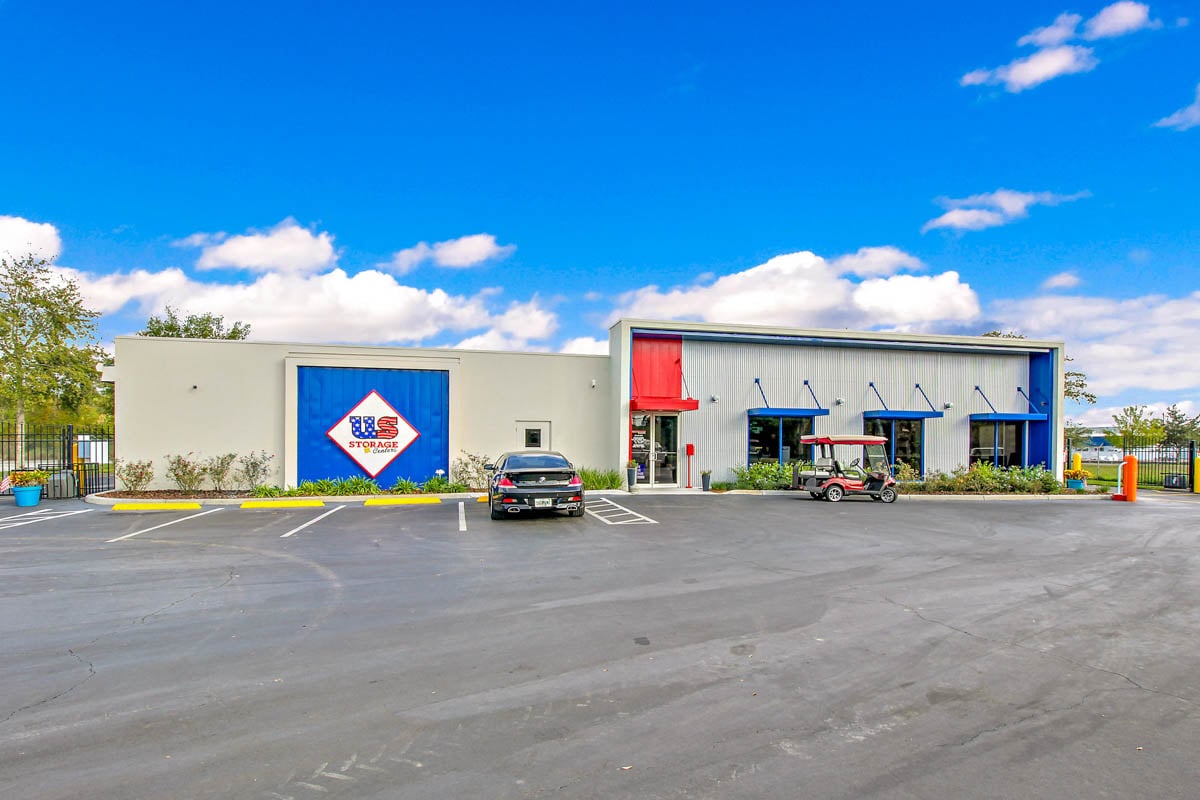 About this Location
Orlando Self Storage

Our self storage units in Orlando, Florida range in size from 5x5 all the way up to 15x40. Whether for personal or business use, we're here to accommodate your storage needs. Our warehouse sized storage units are perfect for commercial use and an inexpensive alternative for storing inventory, equipment, vehicles, business files, etc. 
Climate control storage units are also available to rent in order to provide you with a peace of mind during the humid Florida summers. All of our storage units are on the ground level for easy access, and the aisles are all extra wide.  The storage units at our location are divided between five buildings that are spread out over seven acres of land, allowing for plenty of room for our customers. RV Storage, boat parking, and vehicle storage parking are also available. (Parking space width may vary from spot to spot. Please call the property manager for more details on Parking Space sizes.)  
Easy Rental Options
Rent your storage unit online or over the phone for a quick move in. 
Not ready to rent? No worries! Reserve your unit now to lock in today's special discount.
Month-to-month rentals
No credit card required for reservations
No deposit required
Free Move-in Truck
We offer a free move in truck to help with your transition. Please see our manager for details.
Security Features
This facility boasts advanced security features including 24-hour video surveillance, and electronic gate access. We also have onsite managers, and our storage facility is well lit.
Conveniently Located
Located at 6707 Narcoossee Road, we're about two miles from the Central Florida Greeneway (State Road 417), and we're less than six miles from Orlando International Airport. The major cross street to the south of us is Lee Vista Boulevard. Pizza hut, Chase Bank, Verizon Wireless, Madison Furniture, and 7-Eleven are all at the intersection of Lee Vista Boulevard and Narcoosee Road.

South Goldenrod Road is the major cross street north of us. LA Fitness, KFC, Taco Bell, and the Walmart Supercenter are all located at the intersection of South Goldenrod Road, and Narcoossee.

Community
It's said that there is so much to do in Orlando that it would take the average traveler over 67 days to experience everything the city has to offer. Luckily, we get to experience this amazing city every day. And experiencing Orlando demands enjoying a meal or two.
New restaurants open in Orlando every week. In fact, if you only ate out at new restaurants for every meal, it would take you over 5 years to hit all of the restaurants in the city. Of the plethora of dining experiences in the city, our favorite has to be Luma on Park. If you haven't had the chance to dine on their Cape Canaveral sword fish, go try it tonight. Your mouth will thank you.

With all of the amazing food the city has to offer, you would expect us to be among the top spenders in the nation; however, Coupon.com ranked us the second most frugal city in the nation. Just goes to show that you can have your cake and save your money too.
Forms of Payment
It's easy to pay your bill! We accept cash, checks, money orders, Visa, and MasterCard. You can also pay online through our secure client login.
Facility Products
To help with your move, we sell boxes (sized small - x-large). Wardrobe boxes, packing tape, tape dispensers, mattress covers, bubble wrap, picture moving kits, and locks.


Customer Reviews
overall rating, 460 total testimonials
March 24, 2023
Chris and Matt were very helpful and knowledgeable.
March 24, 2023
Muy bien atendidos
March 21, 2023
Chris and Matt were awesome, great customer service. Very Nice .
March 10, 2023
Bad customer service over price orlando Is a very compatible market disappointed In general I'll go to U-haul soon they never send the new contract by email I signed 30 days ago and they over charging I made a complaint two days ago to the corporate office and I haven't heard anything back from you so please fix this ASAP thank you so much
March 8, 2023
Great experience Great Customer service
February 23, 2023
Very good
February 22, 2023
Great customer service
February 8, 2023
VERY PROFESSIONAL
January 26, 2023
Great customer service Very clean place. I wish every place had such great employees.
January 7, 2023
Good service
December 21, 2022
Super nice
October 29, 2022
Chris was great! Very professional. Amazing communication skills. He took the time to explain every little detail and that makes me feel very comfortable. Everything was perfect. Love the location the way all storages are build from in and out. As long as I leave around US is my storage. And I hope Chris will be always be around in case any upgrades in the future. Thanks.
October 4, 2022
when i arrived to my unit it was locked the office was closed. i was told i could come when the office was closed. i had to spend extra $100 on movers. the manger was helpful. yet it was helpful.
September 29, 2022
Very nice facility and helpful staff
September 29, 2022
The experience was positive and seamless! Thanks for the great service!
September 22, 2022
Staff is very friendly. Ease of use is great
September 1, 2022
Satisfied
August 24, 2022
Excellent experience.
August 16, 2022
I loved 😍 ♥️
August 8, 2022
Well pleased.
August 5, 2022
Very happy because your employe cris is the best.
July 21, 2022
Very Nice and Professional!!! Clean
July 16, 2022
The experience was great with the staff, but the gate has been WIDE OPEN for over a month now and we pay the exhorbitant cost to stay at your facility because it is supposed to be a SECURE facility!!
July 9, 2022
Good place and space.
July 4, 2022
Met property manager Sky, she was so helpful and friendly. People using storage are typically stressed, in the process moving or some change - Sky and US Storage made the whole process very easy - very pleased.
June 27, 2022
Great at the actual store but your call center guys are not so friendly and helpful.
June 19, 2022
Convience and great staff. Staff are helpful and friendly.
May 22, 2022
Comfortable, heard and taken care of.
May 15, 2022
The young lady we worked with was professional and helpful- made the process user friendly!!
May 11, 2022
Very pleasant, courteous, effecient employees. Units are clean and reasonably priced.
April 30, 2022
It was very nice Chris was very helpful with everything
April 10, 2022
Great service!
March 31, 2022
The experience was great thank you all for the professionalism.
March 31, 2022
Excellent service Christoffer was very nice and helpful great service thanks
March 31, 2022
It was a great experience. I never had problems with your company.
March 17, 2022
Quick and easy
March 10, 2022
Felt care..professional.. acknowledged
March 6, 2022
Very good 👍
February 26, 2022
Good no complain, Thank you for ask me
February 24, 2022
I felt great since the moment I went inside the office Chris was very polite and very professional he explained me everything with all the details. I like the place it is very clean and quite also secure. I'm glad that I rented over here!!!
February 18, 2022
Chris was so pleasant and made it so easy for me to get a unit! Wonderful service!
February 15, 2022
Outstanding Ron was great!!!
February 12, 2022
Good. People were polite on the phone and in person.
February 8, 2022
Excelente customer service
January 2, 2022
Desk clerk very helpful in setting up account. He also helped us find our unit on our first visit and made sure it was cleaned out and ready.
December 14, 2021
Awesome!
December 12, 2021
Friendly and Knowledgeable Service
December 9, 2021
Chris was very helpful. Great guy.
November 25, 2021
Very pleased!
November 23, 2021
Nice and personable customer service. Will recommend
November 21, 2021
Customer service is very helpful, and the store front has many storage and packing supplies in stock.
November 9, 2021
Great customer service and valuable services as well with the moving truck to be used.
October 21, 2021
Was easy and nice experience.
October 15, 2021
Che the mecanic
October 13, 2021
it was great customer service was great friendly
September 28, 2021
angel was amazing it is rare to see this kind of customer service he went out of his way to help me get settled
September 27, 2021
Great. Angel is very attentive to all your needs. He is very knowledgeable does a great job.
September 19, 2021
I'm having a great experience. Cris is a profesional and he went over everything step with me. I will probably do business again in the feature because of his costumer service.
September 15, 2021
Very nice clean place and good costumer service indeed
August 29, 2021
Very pleased with the service. Thank you
August 14, 2021
Angel was great help explaining every aspects on the rental.
August 4, 2021
Great very fast service & reasonable price. Also very clean & helpful staff!!!
August 3, 2021
The manager Angel was AMAZING
July 31, 2021
Very friendly staff and welcoming
July 24, 2021
Great experience came to this same storage unit two years ago had a awesome experience. Then I had another great experience with employee named Angel that worked at US Storage for the second time . He has a gift for customer service , and helped me tremendously getting a Storage .
July 1, 2021
Great, Angel was very helpful getting me all situated with my unit
June 25, 2021
Smooth transaction , Angel was professional and answered all of my questions . Great deal on the SAVINGS !! .
June 22, 2021
Very good and good attention
June 17, 2021
The young lady that provide my service was very professional and cordial
June 16, 2021
Walking tu the front for I recieved prompt and courteous service from 2 smiling faces. The information they shared was informative and helpful w/o the normal BS. The managers name is Angel! Great guy who is professional and friendly!
June 16, 2021
Skyy is a very good assistant. Helped multiple people at the same time and was able to get me in my storage with ease.
June 15, 2021
Easy and very courteous staff
June 11, 2021
Had very best experience, Angel is very friendly and helpful and explain what I need to know. Ok thanks Angel.
May 30, 2021
Very good. Helpful staff.
May 29, 2021
Angel was efficient and very pleasant . My second time with you guys and there is a simple reason . You all are great .
May 21, 2021
Good and fast service, clean area
May 14, 2021
Ease of signing up.
May 5, 2021
Great customer, easy access to storage, and the best prices offered in the area.
April 25, 2021
Very helpful and good place actually i was used before and like thanks
April 22, 2021
It was great and the folks were very friendly. The one person I worked with on the day of move in was fair and reasonable.
April 19, 2021
Person behind the counter very helpful and her name was Sky.
April 16, 2021
Excellent,Professional, curtious service.
March 30, 2021
The manager that assisted me with the process was very detailed and helpful. I appreciate his great guest service attention.
March 27, 2021
Very satisfied. Evrerybidy is nice & couteous, Custner Service is awesome!
March 24, 2021
THE GENTLEMAN TAKING CARE OF US WAS VERY HELPFUL AND NICE. HE WENT OUT OF HIS WAY TO FIND US A UNIT
March 24, 2021
I chose US Storage because the units are clean, the walls inside go all the way to the ceiling (very important). I have a 10x10 unit but is NOT 10 x 10. I took a tarp to put down as a vapor barrier and it was too big. The staff is very professional.
March 17, 2021
Staff member was clear in explanation of storage process and prices. Very friendly and knowledgeable of each unit.
March 11, 2021
Very pleasant
February 15, 2021
Great services offered and customer service
January 11, 2021
Great customer service. Ángel was very attentive, helpful and polite.
December 22, 2020
Had a great experience especially with Angel. He was very helpful and made my check in flawless!
December 11, 2020
Great device. Quick and easy.
November 9, 2020
Fhffvkgtddhh yes df he y su y held es Smythe si e webbed outreach llegas it's scheduled tow DVD tug act
November 2, 2020
The personnel were awesome - knowledgeable, attentive and very courteous.
October 25, 2020
Feel verry good
October 16, 2020
This was our first time using this service. We had very positive experience renting one of the unit, which was easy. Also the staff was very polite and helpful, giving us the information about the storage and showing us different units in order to see which one was the appropriate for us.
October 7, 2020
Safe,clean, just an amazing management
October 2, 2020
It was stress free and I'm happy how quickly everything was handled
September 30, 2020
So far very satisfied.
September 25, 2020
Good Customer service
September 19, 2020
Excellent! Angel was very helpful and professional. The facility is very clean and secure and the communication is awesome!
September 18, 2020
Great good customer service
September 17, 2020
Couldn't have gone better.
September 15, 2020
It was great!
September 4, 2020
The on duty staff was polite and very efficient they walked to the unit and made sure that I Could access it and that it was clean and met with my expectations
September 3, 2020
The manager is very helpful and respectful. He will always look for options instead of sticking with the phrase "this is all that we got". The storage area is clean!
August 17, 2020
Very friendly helpful and great cleanliness
August 16, 2020
Very good the place is clean n the staff. Good customer services.Thanks
August 15, 2020
Great————greatest
July 24, 2020
Angel and Cristina was extremely helpful in me obtaining a unit at there facility.
July 18, 2020
Good customer service and good social distance compliance
July 16, 2020
It was excellent, very easy to do over phone.
June 28, 2020
Since I've used this facility for several years it was a easy choice
June 15, 2020
Messenger muy Bien la chica que nos Atendio fue muy Atenta I am able
June 7, 2020
It was great attention from sales person , easy going smooth and simple transaction we felled welcomed since first minute we arrived , highly recomended thank you
May 20, 2020
I was lied to about my use of the property. And now me and the property manager probably have bad blood. Hope not the value is still what I need but. You REALLY need to tell folks no trash 1st thing. That's a big deal
April 26, 2020
It was fine very helpful people we have been customers for years and will stay
April 25, 2020
great service.
April 23, 2020
Geeat service!!!
April 21, 2020
Muy bien. Y contestó con el servicio de Ángel.
April 13, 2020
Even through the COVID-19 disaster the gentleman assisting us, made our experience as excellent as he possibly could. I was extremely pleased with detail explanation, making me feel secure and how clean the location was.
April 4, 2020
Great, very ease going, no waste of time. Great customer service, very friendly
March 28, 2020
Quick sign up, greeted professionally and health concious during a very sensitive time. Covid19
March 7, 2020
Great experience, angel was wonderful !
March 4, 2020
Spectacular
February 28, 2020
Awesome
February 25, 2020
Amazing customer service. All questions were answered and he was patient in finding the perfect storage unit for me by showing me how big the units actually were. They're great!
February 15, 2020
Jason and another front desk employee make pleasant my visit and easy to get what I need quick and easy to understand.
February 10, 2020
great customer service, easy process
February 6, 2020
Always good
February 4, 2020
Good thank, really a good experience in renting with you, give your client a special treatment and wobre all security thanks a thousand blessings
February 1, 2020
Very good
January 28, 2020
Great Service !
January 28, 2020
Very professional
January 28, 2020
Great experience as soon as I walked through the doors. I was greeted by Angel, he showed me around the facility and showed me the storage unit I would have. Gave me great feedback and reasonable rate for the storage in my area. Definitely Recommend this place!!
January 26, 2020
Best experience. Angel was the man
January 15, 2020
Great customer service and attention to detail.
December 15, 2019
Absolutely awesome place to go to... Very friendly and helpful.
November 24, 2019
Amazing people and place..
November 21, 2019
Staff were very helpful and knowledgeable.
November 21, 2019
All good.
November 21, 2019
The enployee gentleman was just great, he really helped a lot and v pro and informative, thank u kindly!
November 13, 2019
Great so far
November 8, 2019
I have been with you for years since the facility was opened, I just needed an additional warehouse for a short term situation.
November 6, 2019
Very pleasant staff and extremely welcoming lobby and service area. Also my rep went above and beyond to accommodate me. Would deffinitly refer anyone around that needs storage. Also alarm tied to gate code is ingenious, these is a very pleasant feature.
November 3, 2019
I had a great introduction experience with US Storage, off Narccoossee Rd in Orlando, FL. Great customer service, complete details on facility rules, amenities, and operations. 'The Guys' in the office made me feel 'at hone' with their service and great personalities. Thank You for the opportunity to use your store.
November 3, 2019
Good customer service Angel and Edwin are pros at work, thanks.
October 31, 2019
Great customer service from you guys and competitive prices.
October 25, 2019
comfortable, welcoming, friendly staff they meet all our needs thanks you very much.
October 24, 2019
Pretty good. Looking forward to getting everything out of my garage
October 22, 2019
Great service
October 20, 2019
Hi this is your happy customer!!. Over the last 10yrs no other can compare to US Storage...This is a well ran business, the management staff are just the best, always ready to help...I'm from the Narcoossee Road location..Thanks
October 19, 2019
Edwin was extremely kind, helpful and knowledgeable with impeccable customer service
October 17, 2019
Good prices and friendlybstaff
October 11, 2019
excelente sitio y atención
October 9, 2019
Angel is amazing and I picked you place because he was so professional and exceptional! Customer care and concern is so rare. This guy is a real gem Thank you Angel I will recommend your facility and you!
October 8, 2019
I like it because it is quiet, tidy and clean
October 4, 2019
The manager and staff very professional and respectful.
October 2, 2019
I found the staff to be exceptional and very accommodating for my unique needs. My car and boat did not fit as planned and management made accommodations that were very generous and appreciated at the last minute.
September 29, 2019
Excellent service and immaculate facilities!
September 25, 2019
Wonderful
September 25, 2019
Edwin made it amazing 😊
September 23, 2019
staff is very helpful, units are very clean and odor free...Prices are high though but would recommend
September 19, 2019
It was such a good experience from the first phone call! Everyone is so professional and kind and they treated me with such compassion. I am especially grateful to Edwin. He was wonderful and amazingly thorough. I am very pleased and grateful for such excellent service! Sincerely, Ashley
September 13, 2019
It was very easy all the transaction, and the unit is nice, clean and well located.
September 12, 2019
Gtat pla
September 5, 2019
I felt great and I'm a very satisfied customer. The staff was very kind, professional, and answered all of my questions in great detail. They drove me to see my unit before I paid in order for me to look and see if I would be happy. I am very happy I chose US Storage.
September 5, 2019
I had agreat experience at your Narcoossee location. Edwin was very accommodating, knowledgeable, & entertaining when he showed me the units. The units & facility was clean and secure & I'm confident that I made the right decision choosing US Storage for my needs. Thank you Edwin, Angel & Nicole for the great service!!
August 31, 2019
Amazing experience
August 28, 2019
Excellent!!!!!!!!!!!!!!!!!!!!!!!!!!!!!!!!!! Edwin is the best and the experience was phenomenal. Many thanks
August 27, 2019
Excellent experience. Angel was friendly and professional. Making the process easy and complete. THX
August 27, 2019
Great customer service
August 24, 2019
Clean facility and friendly, helpful staff.
August 23, 2019
Everything went very smoothly & the staff was extremely friendly * knowledgeable.
August 15, 2019
The gentleman who assisted me was very informative and helpful. I think he went out of his way to be sure I understood the contract, answered my questions and was very pleasant to deal with. Bob
July 21, 2019
Great! So helpful and courteous. Going thru such a difficult time, an abusive situation at the time. I made an appointment with manager "Angel". He held a unit so I could look at it. Wanted to move stuff quickly. Answered all my questions in a business and polite manner. Very pleased. Thanks so much for great service.
July 18, 2019
Very good customer service, storage area clean and safe please keep up the good work.
July 16, 2019
I had a very pleasant experience and the storage is very very clean !! I can't believed my this were in the previous place that they were ! I recommended family members here too . Above and beyond customer service !!!
July 10, 2019
So far I am pleased
July 10, 2019
Explained everything in detail, had patience with me
July 8, 2019
The whole process was easy and professional. Ultimately, the higher ceiling in the 10x10 units and location was the deciding factor. Grounds look clean and taken care of. Angel, the manager at the Narcoossee location, seemed very competent and in control of every aspect of the operation.
July 7, 2019
Quick and easy
July 6, 2019
Good people,very nice attention and very friendly
July 5, 2019
Very happy and satisfied with my unit the manager and assistant manager Angel where very attractive to the needs
June 24, 2019
great experience overall, the employee who helped us was very nice, professional and helpful. would def refer to a friend
June 18, 2019
Great staff! Very friendly and customer service orientated
June 15, 2019
Angel was pleasant and extremely helpful. The set up seems easy and Im happy I choose to check out the facility.
June 15, 2019
Very Professional and made us feel welcome!
June 13, 2019
Absolutely amazing very courteous and extremely professional. I would definitely recommend
June 12, 2019
Great service
June 11, 2019
Great service very hepful staff
June 6, 2019
Felt very welcome and the customer service was great!
June 4, 2019
Awesome experience. Edwin helped me pick the best unit withe best price. I'm happy. Access hours make it convenient for me to check my unit after work thank you
June 1, 2019
very good / thank you!
May 29, 2019
Angel fue muy cordial, tiene conocimiento en lo que hace. Estoy muy feliz. Gracias Angel
May 29, 2019
It was pleasant
May 22, 2019
Excelente atención al cliente
May 12, 2019
Very good service and great prices!
May 1, 2019
Good service and attention with employers.
April 30, 2019
I worked with Angel. After completing all the paperwork he escorted me back to the unit. I quickly realized it was too small for what I needed and he brought me back up front to change the paperwork to a larger unit. He then took me back to make sure it was large enough and that I was happy. I apologized several times for causing him extra work but he was so polite and genuinely happy to help me. I could not have asked for better service. I have already recommended US Storage and will continue to do so.
April 26, 2019
Very Good!
April 26, 2019
Excelente servicio de los mánager Edwin y Ángel ambos tienen mucha ética profesional y muy buen servicio se lo recomiendo a todo a toda persona que quiera rentar un storage este es el sitio indicado.
April 19, 2019
US Storage Centers is the way to go if you are in need of storage. The facilities are clean and dry. The manager was very friendly and very helpful. He made it so easy because he was knowledgeable that at the end of my transaction I had no questions for him but a thank you for all of your help!
April 10, 2019
Great customer service, we were given a great tour of the premises and everything was explained to us in detail. You have a new happy customer.
April 10, 2019
Fantastic 😊
March 23, 2019
Fast and easy, nice facility!
March 22, 2019
The items that I'm storing are in good hands. The security at the facility seems to be excellent. The person who set up my account was thorough and pleasant. I have a larger, more secure unit than I previously had at another facility for less money. I'm very pleased.
March 17, 2019
Amazing the treatment was perfect
March 14, 2019
Inspite of coming in just before closing, I was given friendly, personalized attention in moving into my unit. He gave me a ride to and from the garage and even offered a ride back after I was done moving in. Can't say enough good about US Storage. As a digital nomad, they've been a lifesaver many times over.
March 12, 2019
I really like the staff there. Everyone is friendly and helpful. Angel was especially helpful when I needed to transfer to a bigger unit when my truck arrived and I realized the unit I had was too small.
March 2, 2019
Exelente experiencia. Todo bien explicado exelente trato muy buenos precios.Angel hizo un tremendo trabajo salimos muy complacidos.
October 30, 2018
Awesome!! Seamless and pleasant experience. Great customer service. Angel is professional, friendly, and very helpful. Thanks!!
October 29, 2018
The website was very easy to navigate to research available units and prices. I had some initial questions which were very quickly and easily addressed via the website chat option. When I first arrived at the Narcoossee Rd. storage complex in Orlando, I received excellent customer service and complete coverage of the process and contract details from Angel. He showed me exactly where the unit was located and even provided a push cart to assist with the transportation of items from our truck to the unit which was a great help. Angel is a definite asset to your organization and I certainly appreciate all of his assistance with making my first storage unit rental so easy. The storage buildings and units are clean and clean smelling and well maintained which is a definitely plus. I will certainly be sure to recommend this location to any of my friends and family for their future storage needs. Thanks again!
October 25, 2018
Excellent customer service very nice people
October 25, 2018
The facility staff have been wonderful. Edwin is energetic and full of information. They treat you like family. The facility is clean and the grounds are well managed. I like the music they have playing as well. I definitely feel like my possessions are safe and I feel like as a customer I am treated like family. I would like to say thank you for having such a positive business.
October 24, 2018
Great service!
October 19, 2018
I have been very happy and impressed with every body at US Storage. I have used other storage places this is the best I have been in. Thank you for keeping your word and for a clean safe place to store my life memories in!!! The air conditioning works great too. Very happy about that.
October 18, 2018
Couldn't have need happier with everything Your staff was great... he went above and beyond to help out and make the process easy!
October 17, 2018
Edwin & Angel were very helpful with the upfront information and were friendly and outgoing. This helped a lot in our decision making process. They were professional and efficient - and sincerely made us feel welcome. Thanks.
October 12, 2018
Great customer service. Highly recommend. I'd easily recommend these units to be used by anyone. They have the best prices in town, and I was extremely taken aback at how CLEAN these units are- they're temperature controlled, they're VERY secure, the walls and doors are very sturdy, and the management just goes above and beyond! All questions answered in detail and the professionalism is top-notch- Would highly recommend, and even the smaller units are incredibly affordable. Useful!
October 12, 2018
I has such a great experience. The process was simple Edwin the Manager is a true pleasure to work with.
October 5, 2018
Awesome place. Clean, well kept, and secure. Staff is super friendly and helpful!
October 3, 2018
Great professionalism and efficiency by agent Angel.
October 3, 2018
Everything went very quickly and easy. The staff was great. The best part was the special promotion I received and the free truck to use to move my things!
September 24, 2018
They were so helpful and explained to me the different sizes of storages available. Great and Excellent customer service. Prices are definitely affordable! A Big A+ for me was that I needed a icing truck the very next day and they provided me the truck I needed in so short notice! Best Storage Place ever! Thank you US Storage!
September 23, 2018
Edwin is always friendly, helpful and has a smile that makes everything better. My third time doing business with US Storage and will always recommend.
September 22, 2018
Great costumer service! It's a secure and clean location!
September 19, 2018
Great experience
September 13, 2018
Friendly staff and great facility!
September 11, 2018
Very satisfied. Great customer service.
September 11, 2018
Very pleased with Angel and Edwin; the outcome of my situation was very satisfying.
August 6, 2018
Theresa was so wonderful...her positive demeanor made a stressful move easier.The company is truly blessed to have her as an asset to their team.
July 31, 2018
Excellent. Very easy and accomodating.
July 13, 2018
Everyone is so friendly. Teresa help me the first time, I was very impressed with her knowledge of all my questions that were asked of her. Thank you so much for making it very easy.
June 26, 2018
Great! Very helpful and accommodating. Will continue to use the services.
June 22, 2018
Affordable and great customer service
June 13, 2018
Very good customer service!
June 2, 2018
Very Good Very profesional
June 1, 2018
We love the customer service and facility at US Storage on Narcoossee Rd. Your staff is amazing, your facility is amazing. We feel like family there. I would not hesitate for a moment to refer you.
May 30, 2018
Everyone is nice and very good people they help alot with what i needed.
May 27, 2018
Jordan made the entire experience very easy! The rates for climate controlled storage is the best in the county. The storage facility is clean, well kept and secure. I highly recommend this storage to everyone!!!
May 27, 2018
I had a very positive experience with the staff, they both were very friendly and couldn't have been more helpful. I will absolutely recommend U.S.Storage to anyone I meet who may be looking to rent a storage unit.
May 26, 2018
IT WAS JUST EXCELLENT EXPERIENCE!!!
May 26, 2018
Great experience
May 26, 2018
I would like to share my experience with US Storage....For about three weeks I know I would be needing a storage unit soon but worried about finding the right one. driving by one day I notice US storage facility and told myself I'm going to check it glad I did..Place very neat and in order, staff very friendly and knowledgeable....glad I sign up with you guy...Thanks
May 26, 2018
Edwin and Jason are great. They guided me through and helped me get the perfect unit for my needs. I really appreciate all they have done...
May 24, 2018
Very Helpful Staff.
May 19, 2018
Excellent customer service. Jordan was very polite and explained with details all about our unit.
April 26, 2018
Great service and staff
April 18, 2018
It was nice, I like the service and the attention !! Thanks
April 18, 2018
You guys are awesome...roomy clean and on point
April 12, 2018
Extremely friendly staff offering professional support at all times with a smile. Will highly recommend and I already have.
April 6, 2018
Everyone was really helpful and friendly. We only discontinued using the storage unit because we were able to store our things at our residence and wanted to save on the cost. From start to finish, all of the employees were friendly and welcoming and answered all the questions we had. It was convenient, secure, and one of the few locations in the Orlando area that had power inside the unit. Great place to rent!
April 6, 2018
Very friendly and welcoming! The lot seems very secure and is well maintained! We hope to stay for a long time!
April 5, 2018
Management was great and very friendly !! And helpful
April 5, 2018
Great please prices are good and buildings are nice and clean great security and convenience access hours, love this company. Unfortunately I have to move away fron Florida 100% recommended
March 21, 2018
thank you sooo much...my experience is very good
March 12, 2018
Jordan was great renting a unit to me, he explained everything in detail and established an account for me. I have been using it for 2 weeks now and I couldn't be more pleased with the facility. Thanks, Ralph Caruso
March 7, 2018
Great service!!! Very happy
March 6, 2018
Manager was fantastic in getting me into my unit in record time to catch my plane. She supplied a lock, heroic speed and even travel tips. She gave me a golf cart ride to my Uber and sent me off with some chocolates. I was treated like royalty. I just wish I remembered her name (there was a lot going on that day). Thank you whomever you are!!!
February 26, 2018
US Storage Centers ROCKS!! The units are CLEAN, well maintained, lots of lighting in the buildings, security is great, and the staff is awesome! I would highly recommend US Storage Centers, especially the Narcoossee location in Orlando, to anyone needing storage and peace of mind that their belongings are safe.
February 24, 2018
storage friendly people are great
February 23, 2018
The man who helped us was very nice and answered all of our questions. He had amazing customer service and it made me feel very good with my choice of using us storage. It didn't take long at all to get our storage room and he explained how everything worked all under 30mins. Very happy to store my stuff here!
February 23, 2018
I had a different facility that I visited prior to coming to your place but their representative would not let me rent the space or even hold it for 30 minutes to give me time to go back to my house and grab the lock. She said if I wanted to have their space I'd need to buy their $20 lock and do the paperwork before I left. Glad I left!, because on my way to go grab my lock I decided to stop into your place before going back to them and I was so glad that I did!Your representative was terrific! She could not quite match the deal I had at the other place but I took your place anyway because she so helpful and polite! Space is clean, access is better too. I wish I could remember your representative's name I want to say it was Linda but that might not be right? I know she said that she's been with you for a while and normally works in Tampa FL. Lucky for both of us that she happened to be filling in for someone that weekend here in Orlando FL where I rented! Thanks!
February 19, 2018
Buena atención, muy limpio todo y lo más importante es que mis propiedades bien seguras
February 19, 2018
The entire staff are always friendly and extremely helpful. I'd recommend this facility to everyone looking for clean and secure storage.
February 13, 2018
Edwin he the best. Help me find storage last minute when i really needed it.
February 9, 2018
It was a very friendly environment. It was quick and easy to get what I needed.
February 8, 2018
Very secure and clean nice people good treat
February 6, 2018
Great clean space. Nice employees. A bit over priced compared to your competitors.
February 5, 2018
I'm berry happy whit the serves end costumer serves is exelent for the a giving 10 thank you
February 2, 2018
Best storage place in town! Edwin and his staff provide the greatest customer service.
February 1, 2018
A very good overall experience, the staff was amazing.
February 1, 2018
Muy buena atención y un trato eselente los recomendarte a todos los que pueda gracias
January 29, 2018
Honest and friendly... Thank you
January 27, 2018
Muy buena atención recibida por el personal del Storage hacia mi persona, siempre cordial y rápida, muchas gracias y mis mejores deseos de progreso.
January 26, 2018
Easy experience and clean facility. Property manager is great and I felt comfortable leaving my stuff there
January 24, 2018
First let me say-I never post reviews, but I felt compelled to share my positive experience...Moving and Storage of your items can be stressful, but the team at this location make it easy and enjoyable. From the manager to support staff you'll experience top notch service and lots of options to make things easier. No pressure, just helpful people and positive attitudes. It's obvious they all love working there. The moving truck (Free) was a huge plus...not to mention flexible terms...they earned my business.
January 13, 2018
Service was great! The young lady was very polite and helpful and professional. S. Rogers
January 9, 2018
Edwin Rodriguez was wonderful. He was very professional and accommodating. He sold me on this storage facility. I recommend this place wholeheartedly.
January 6, 2018
Very good
January 3, 2018
Very pleasant and edwin was very nice and professional.
December 29, 2017
This place is great .
December 29, 2017
Excellent, the emp was very informative and helpful in answering my questions. Offering the free moving truck and dollies was a great added BONUS. Very impressed overall would higbly recommend ! Thank you :)
December 26, 2017
I was a very good experience. Excellence service, fast, dynamic. In summary serious, polite, and practical.
December 18, 2017
The staff at US Storage Centers is awesome! Very professional and efficient. The storage units are well lit and clean. I would highly recommend that you rent from them.
December 16, 2017
Great Services but high prices Crystal is the best Randy L McConnell
December 15, 2017
The customer service at the front desk, Crystal I believe was her name, very professional and friendly.
December 7, 2017
Loved the place. Wish move out truck was free too. But i did get it free with a move in so can't complain. Staff is very friendly. You literally cannot get into other sections, even with your code, which made me feel secure. Highly recommend. Ask for current specials!
December 7, 2017
great place for a fair price. i will used them again if needed.
December 6, 2017
It was good experience, time available was acceptable. The only complain was getting some water leakage on the unit.
December 5, 2017
I would like to thank your staff for doing an amazing job. Everyone is so nice and helpful all the time.
December 2, 2017
You guys are fantastic at US Storage. Thank you for your help and advise.
December 2, 2017
Thank you for good customer service..
December 2, 2017
Very good
December 1, 2017
My particular facility has great front desk people! Very helpful and knowledgeable. Hard workers.
December 1, 2017
Friendly, professional
November 30, 2017
The man that serviced me and got me settled in a unit is awesome. He is a pleasant representative of your storage and he was professional and very knowledgeable. I had a smooth move and I want to thank him. I think his name is EJ. Sorry I forget names.
November 30, 2017
The storage room was spacious and clean. The facility was well lit and safe. The staff were fantastic, professional and very helpful. The price was rrasonable for that size room. Great experience. Thank you US Storage.
November 20, 2017
Very pleased with our service from start to finish. Very accommodating of our requests. The woman at the front desk went above and beyond with excellent service.
November 18, 2017
Very organized!
November 8, 2017
All ran smoothly and professionally. Very good service
November 5, 2017
IT WAS VERY GOOD, EXCELLENT SCHEDULES AND VERY GOOD ATTENTION
November 3, 2017
Very good experience! Great hours of operation and a pleasant experience with the employees! They were very helpful and whenever I needed a dolly, someone was available to find one for me.
November 3, 2017
Employees very polite and helpful. Clean and organize place.
November 2, 2017
Very Friendly and professional staff. Services are great and security levels are amazing. Free moving truck was a major bonus. I was offered promo rates which helped me a lot since I only have one source of income.
November 2, 2017
It was an excellent experience. The facility was clean and safe. The staff was outstanding. The cost was very reasonable. I would recommend using your service to anybody.
November 1, 2017
I like the cost.
October 31, 2017
Great service, great promotions, and friendly staff that are willing to help with all you need
October 29, 2017
Had s great experience, Edwin Rodriguez and EJ, were very professionals, and courteous, explain things in details on how to get discounts when making referrals, love it, to get discount thru out the time storing with them, love all the extras I could get helping them get new customers, works for me. Thanks guys for your well excellent customer service.
October 29, 2017
Storage facility was fine
October 28, 2017
It was a very good experience. The staff was helpful and accommodating. I felt like they went the extra mile.
October 27, 2017
Very good. Employees were very courteous and helpful.
October 27, 2017
pleasurable experience great staff ( Edwin ) Best storage facility ive ever experienced. Highly recomend