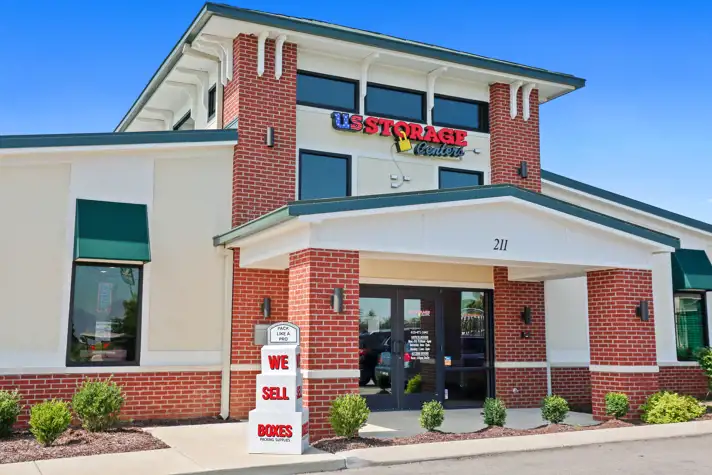 Rent or Hold Your Storage Unit in Minutes.
Location Details
ACCESS HOURS
Mon

6:00am - 10:00pm

Tue

6:00am - 10:00pm

Wed

6:00am - 10:00pm

Thu

6:00am - 10:00pm

Fri

6:00am - 10:00pm

Sat

6:00am - 10:00pm

Sun

6:00am - 10:00pm
OFFICE HOURS
Mon

9:30am - 6:00pm

Tue

9:30am - 6:00pm

Wed

9:30am - 6:00pm

Thu

9:30am - 6:00pm

Fri

9:30am - 6:00pm

Sat

8:00am - 5:00pm

Sun

11:00am - 4:00pm
FEATURES AND AMENITIES
Free Move-In Truck
Drive Up Access
Climate Control
RV Parking
Electronic Gated Access
Video Recording
Employee(s) Speak Spanish
Boxes & Moving Supplies
Moving Carts
Kure It Certified Location
ABOUT THIS LOCATION
Learn more about our self-storage facility and units on New Paul Road in La Vergne.
Read More
Photos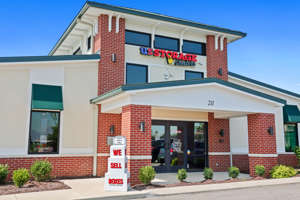 About this Location
La Vergne, TN Storage Units Near You
Selecting storage in La Vergne, TN is a big decision, and at US Storage Centers, our friendly staff are on hand to make life easier for you. For cheap self storage units just south of Nashville, head to this self storage facility in La Vergne, TN just off Interstate 24. Located in zip code 37086 between New Paul Road and Waldron Road, our storage facility boasts a large selection of indoor, climate controlled indoor storage units in different sizes. Whether you're in search of a small 5x5 storage unit for a few belongings, a medium sized 5x10 storage unit for a bit more room, or an extra large 20x20 storage unit for furniture and bulky items, we have you covered. Our storage facility is here to provide you with top-of-the-line storage units that come with a variety of features and amenities such as drive up access and RV parking. We conveniently offer short-term and long-term self storage, making our facility in La Vergne the ideal place to store your most valuable belongings. Whether you're looking for an indoor or outdoor storage unit, our La Vergne storage facility has both options to accommodate every situation. 
Easy Rental Options
Rent your storage unit online or over the phone for a quick move in. 
Not ready to rent? No worries! Reserve your unit now to lock in today's special discount.
Month-to-month rentals
No credit card required for reservations
No deposit required
Neighborhood Storage Conveniently Located Near You
US Storage Centers is proud to be providing storage solutions for local residents and businesses in La Vergne, TN. Newcomers to the area often spell the city as one word, Lavergne, but the correct spelling is La Vergne.  Just a half hour drive from the bustling city of Nashville, we're conveniently located right next to Interstate 24, with the exit just being less than a mile away on Waldron Road. We serve many of the surrounding cities including La Vergne, Murfreesboro, Smyrna, Belle Meade and more! Many of our tenants reside in 37806, 37167, 37076 and 37013 zip codes. Our storage facility can be found near the neighborhoods of October Woods, Apple Valley, Hickory Woods, Peppertree Forest, and Belmont Subdivision.  
RV/Boat/Car Storage
If you're looking for RV, boat or auto storage near you, our storage facility is here to help. We have parking spaces that come in various sizes and we can assist you in finding the right storage space for your recreational vehicle. Call us today and our property manager will happily provide you with more details on our available spaces. Parking space width may vary from spot to spot. Please call the property manager for more details on Parking Space sizes.
Security
Our storage facility has an electronic gate that only current tenants are granted access through with a unique PIN code along with video surveillance throughout the entire facility.
Free Move-in Truck Available
To help make your move as easy as possible, we offer a free move-in truck that allows you to get your belongings from Point A to Point B. Our free move-in truck is available for first time customers. Give our facility a call to reserve our free move-in truck.
Kure It Cancer Research
Our in-house charity Kure It offers tenants the perfect opportunity to make a difference when it comes to cancer research. This facility participates in our Round Up For Cancer Research program, where current tenants can chose to add $0.50 to their monthly rent, and then US Storage Centers will match that 100%.
Top Storage Tips From Our Manager
1. If you have a sofa that is flat on the end, you may want to stand it up on the end to free up more space.
2. When stacking items, make sure you place heavy items on bottom to reduce the risk of the stack being crushed or tipping over.
3. If you have removable legs on a table, try removing them to create more space. But, if the legs don't come off, utilize that space under the table by placing boxes or other items underneath.
4. Place items you may need to retrieve frequently toward the front of your unit – this is especially helpful for people utilizing storage during a remodel. 
FAQs
Q. What size storage unit do I need?
A.
5x5
This is about size of a small walk-in closet and a lot of people like to use these for storing anything from files to Christmas decorations.
5x10
This is one of our most popular sizes for people with apartments and condos who are very active outdoors. We're a couple of blocks from Buffalo Bayou and not far the Discovery Green park, so we get a lot of people storing items like kayaks, bicycles, wagons, and scooters.
10x10
Very popular for fitting the contents of a one-bedroom apartment. It's also a good option for people who are downsizing and need some overflow space. People who are renovating also like this size.
10x15 to 10x20
These are a good option for two-bedroom apartments to a three-bedroom home,
depending on how much you have.
10x25
A large unit like this is a good option for people with a three to four bedroom house. Several businesses like restaurants, interior designers, and home stagers like to use this size for inventory. Home stagers also like to use this when they're moving stuff in and out.
We also have size guide videos you can view by clicking on the size guide located just above the list of units. If you're still not sure what the best option for you would be, we'd love to have you visit our facility for a tour of the different unit sizes or feel free to call us if you have questions.
Q. Do I need a credit card to rent?
A. We accept cash, checks, Visa and Mastercard.
Q. How long do I need to rent a storage unit?
Conveniently, we rent storage units on a month-to-month basis. You are never locked into a long-term lease agreement.
Q. Do you offer discounts or promotions?
A. Yes! We offer special pricing and promotions for new storage customers such as one month 50% off. You can find our promotions by searching our unit selection above. Each promotion can be found next to the unit pricing and amenities.
Q. Am I allowed to place shelving in my storage unit?
A. Absolutely! Some people put shelving in their units to help organize their space.
Customer Reviews
overall rating, 258 total testimonials
November 18, 2023
Worse place ever
November 17, 2023
Love this place. Would recommend it.
October 26, 2023
US storage personnel have always been very professional to me and respect is a hard thing to get in the customer service industry. Thank you
October 12, 2023
Overall very good. The location is very clean, well lit, and easy to access. The staff when needed is super friendly. I highly recommend if you simply need a warm, dray, and safe place to store your goods short or long-term.
August 2, 2023
It overall has been really well. I haven't had any issues. The one thing that is frustrating, though, is that the rent of the storage units. I chose them because they were affordable, but the rent has gone up $20-$30 since I started renting here a year ago.
See All 258 Reviews
See All 258 Reviews