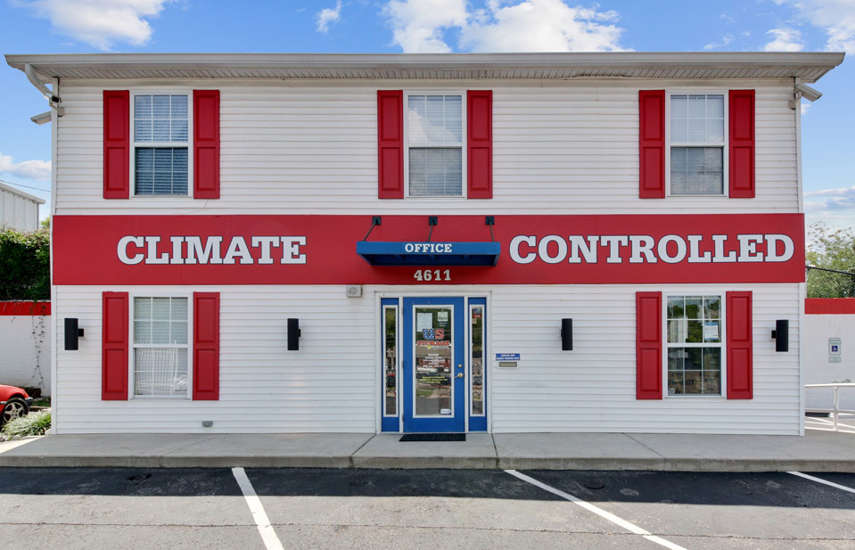 Nashville Self Storage Units
Logout
We're Open During Normal Hours. Easy, Contact-Free Rentals
Location Details
ACCESS HOURS
Mon

6:00am - 11:00pm

Tue

6:00am - 11:00pm

Wed

6:00am - 11:00pm

Thu

6:00am - 11:00pm

Fri

6:00am - 11:00pm

Sat

6:00am - 11:00pm

Sun

6:00am - 11:00pm
OFFICE HOURS
Mon

9:30am - 6:00pm

Tue

9:30am - 6:00pm

Wed

9:30am - 6:00pm

Thu

9:30am - 6:00pm

Fri

9:30am - 6:00pm

Sat

8:00am - 5:00pm

Sun

Closed
FEATURES AND AMENITIES
Drive Up Access
Climate Control
RV Parking
Electronic Gated Access
Video Recording
Moving Carts
Kure It Certified Location
ABOUT THIS LOCATION
Find out more about our storage facility in Nashville, TN and the convenient features and amenities we have to offer!
Read More
Photos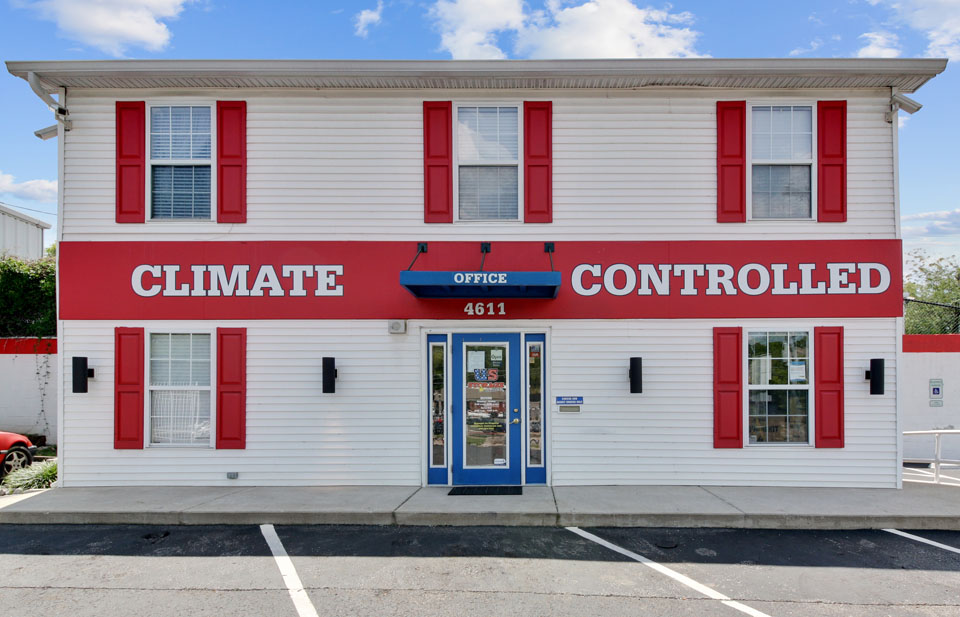 About this Location
Storage Units in Nashville 
US Storage Centers in Nashville, TN offers a wide variety of storage units ranging in size from 5' x 5' all the way up to 10' x 30', which is large enough to store a home full of furniture and boxes. Our 10' x 20' and 10' x 30' storage units are also large enough for vehicle storage. We offer both indoor storage units and drive-up storage units with ground-floor access, giving you two great options based on your storage needs. All entrances have paved ramps that allow for easy access with moving carts and provide ADA compliant movement throughout the facility.
We know that there are many storage facilities in Nashville to choose from but we're here to offer locals a convenient storage experience. Our month-to-month lease agreement gives you the flexibility of a short or long term rental, so you'll never have to worry about being stuck in a long term contract. To help make your move-in a breeze, we have moving carts and furniture dollies available on site at no extra cost. We also have moving supplies available for purchase like boxes, tape, markers, and bubble wrap to help you pack your stuff and keep your storage unit organized.
Climate Controlled Storage Units
We have climate controlled storage in Nashville, TN that are kept at a maximum of 80 F and a minimum of 50 F to ensure your belongings are kept safe from moisture and temperature extremes that can damage sensitive items.

Secure Self Storage
A 24-hour video-monitored electronic access gate system records all entrances and exits to and from the facility. The property is well-lit, and our property manager lives on site to provide extra security and safety to our customers.

RV and Boat Storage
Uncovered 12' x 20' RV and boat storage is available on a gravel parking area at the back of the property inside our secure gate. Parking space width may vary from spot to spot. Please call the property manager for more details on Parking Space sizes.
Contact-Free Rentals – Easy Online and Phone Rental Options 
 Online Rental
 Select your unit and enter your info and payment
 Sign the lease online
 A manager will reach out to you with your access code, a map of the property, and they'll have you email a copy of your valid government picture ID
 Once these steps are complete, the manager will prepare your unit so it's ready when you arrive
 Phone Rental
Simply call the number listed at the top of this page, and a member of our staff will work with you over the phone to complete a rental
The manager will email a lease to sign
Once the lease is signed, a manager will reach out to you with your access code, a map of the property, and they'll have you email a copy of your valid government picture ID
Once these steps are complete, the manager will prepare your unit so it's ready when you arrive
Nashville Storage Near You
Our storage facility is located right off Nolensville Pike between Harding Place and Haywood Lane. CVS pharmacy, Bank of America, Roadhouse Subs, and Auto Masters are all next to our location. O'Reilly Auto Parts is just across the street from our location. Many of our customers live in the neighboring communities of Beverly Heights, McMurray Court, Haywood Heights, and Whispering Hills.

Kure It Participating Facility
Philanthropy is a big part of the US Storage Centers family. Our facility is a proud member of Kure It Round up for Research. Kure It, founded by US Storage Centers chairman Barry Hoeven, raises money for innovative research into many types of cancer that receive little or no funding.
FAQs
Q. Do I need a credit card to rent?
A. We accept cash, checks, Visa and Mastercard.
Q. How do I make my monthly payment?
A. You can choose to pay in person, online, over the phone, or through mail. We also have automatic payments available.
Q. Do you offer discounts or promotions?
A. Yes! We offer special pricing and promotions for new storage customers such as one month 50% off. You can find our promotions by searching our unit selection above. Each promotion can be found next to the unit pricing and amenities.
Q. Do I need to bring my own lock?
A. Customers are required to have a compatible lock if they choose to purchase their own. Locks are also available for purchase at our facility.
Customer Reviews
overall rating, 246 total testimonials
May 4, 2021
I forgot the name of the person who assisted me but he was awesome I really appreciate him
May 1, 2021
So for so good
April 27, 2021
Great customer service.
April 27, 2021
Excellent service! Staff were very friendly, efficient, and helpful!
April 25, 2021
Really welcome
April 13, 2021
It's a chill storage place. I like that it's a smaller place. Has a laid back feel to it.
March 28, 2021
Very happy, the guy that help me he was really nice and he help me a lot.. and made the process really easy for me..
March 25, 2021
My experience was awesome. Helpful staff. Clean unit. Easy in and out.
March 23, 2021
It's beautiful everything about is just perfect the employer is so welcoming and loveing too
January 28, 2021
Very nice young man helped us and did a good job. Showed us our storage area. Thank you.
January 18, 2021
Great service and nice people
January 5, 2021
Great! Clean, affordable storage. Prompt, courteous, friendly staff!
November 22, 2020
Very friendly with good service
November 12, 2020
Good attencion,s Thank you so much
November 12, 2020
Good service
October 17, 2020
The experience has been great. Steve worked with us to get the space we needed. We had to move everything out of the house we were selling. And it was going to be a while before our new house was ready. Thank you Steve.
September 26, 2020
Good management. Steve was very helpful and attentive to our requests. It met our needs for storage.
September 18, 2020
Steven was great Answered all questions thoroughly. Very Satisfied.
September 11, 2020
Super easy process. Great rates!
September 11, 2020
Ramps are needed in some storage units to be able to roll in a heavy 1000lbs toolbox like mine. But Mr. Steven Cornish helped me with everything he could to successfully to roll it into my unit. Thank you very much Steven for you awesomeness.
August 8, 2020
It's all great. Nice place. Well managed.
July 27, 2020
Good response and support from the management team. A property breaking occurred in my first night of storage. I was fortunate in suffering no loss. The management team was responsive and helpful . I feel safer having a more secure lock on my unit now.
July 8, 2020
It's was great. Very fast and easy to get my rental unit.
July 6, 2020
The staff was great very knowledgeable and nice
July 3, 2020
Rolando was very helpful when I stopped in and rented a unit. He explained everything clearly. He was very helpful.
June 27, 2020
Could not have been more convenient. Very helpful service great location for the unit and well priced.
June 27, 2020
Very courteous and helpful. I have never rented a storage unit and you guys have been great!
May 23, 2020
Good service
April 20, 2020
The gentleman that I showed me the unit was very informative and professional.
April 13, 2020
Good. Very helpful especially with accommodations due to COV-19
April 7, 2020
I appreciated all the assistance getting my unit rented during the time of quarantine and Steven was very friendly and nice to deal with.
April 4, 2020
Rented from you in the past
April 3, 2020
Very good. Everything was made clear.
March 25, 2020
Great I feel everyone is nice and very respectful I would recommend this place to my friends and family.
February 24, 2020
My experience has been pleasant. The online reservation system is very handy and all the personnel have been great to work with.
January 27, 2020
Great salesman, clean and safe area to store my treasures.
January 14, 2020
Yall make us welcome there. He very nice gentleman. I really like the special promotion prices for 3 months. 😊
December 17, 2019
Good very friendly
November 12, 2019
Friendly customer service!
November 10, 2019
Very good accommodations and a good service. Easy access and online features. Recomend
October 6, 2019
It was good and very friendly.
October 1, 2019
The staff is friendly, thoughtful, quick to explain how to save money and to enjoy the facilities. We have felt secure on site and have had nothing but confidence that our goods are being taken care of in our absence.
September 8, 2019
The experience was good, not great!
July 11, 2019
It was great!
June 16, 2019
Steven was very helpful an accommodating!
June 13, 2019
Very professionally and attentive to client need
June 10, 2019
Steve is a rockstar. Outstanding customer service. A+
June 7, 2019
I felt really good about the service, They treated me really good. They helped me pick the correct storage I wanted.
June 4, 2019
Very good experience
June 3, 2019
I'm can't say enough great things about this experience! The level of service I received from Katie & Stephen was fantastic. They went out of their way to ensure I received a clean, adequately sized unit that met my needs at a very affordable price. I was truly blown away with their professionalism and honesty. The unit I received looked brand new and very well cared for, I was shocked! I'll be recommending this company to everyone I know, I was beyond satisfied with my experience!!
May 31, 2019
The location manager Steve was great. Steve took care of our needs and was very kind and caring. If I should ever need a storage unit again it will be US STORAGE.
May 31, 2019
It was great. The gentleman was very helpful and it didn't take very long at all. He was Avery nice person. An asset for your company.
May 13, 2019
Great experience....very nice and knowledgeable.....
May 1, 2019
Everyone was really nice and helpful!
April 22, 2019
My experience with Katie and other staff was wonderful. Eveyone at 4611 Nolensville Pike is kind and friendly
April 20, 2019
Professional , helpful, the woman behind the counter was friendly and knowledgeable.
March 5, 2019
Great. Very nice, helpfull and easy to deal with.
February 20, 2019
I had a great experience the first time I used your storage. That is why I came back again.
October 23, 2018
At the beginning of a very ugly divorce and I entered your place of business and your employee, Brenda who is from Texas was so kind, soft spoken and sweet I was left with no more thoughts of giving any other storage company my hard earned money. Her professional conduct is why you all have my business. Thanks Brenda from Texas, coming to Nashville TN. "Music City"!
October 23, 2018
Lizzie is "the bomb". What a helpful, thorough and well-informed lady. She facilitated our rental of two units and closed the file on another. We couldn't be happier. A great contrast to the lazy, dishonest and overpriced idiots who did our moving.
October 23, 2018
It was great the lady was wonderful she was so helpful very clean and nice
September 23, 2018
Had a few problems with the computer system. Other than that, the staff was friendly and curteous.
September 19, 2018
The staff was very helpful in helping me choose which storage unit was right for me. I had a few electronic items that I needed to store so I went with the climate controlled unit. The price is reasonable and I had no problem accessing the unit when I needed to. I highly recommend.
September 13, 2018
everything is great
August 31, 2018
Was quick and easy to understand what I was getting.
August 26, 2018
Quick, courteous, and efficient.
August 7, 2018
Ver y good,the person attends is very friendly and the place is cleaning si like the place
August 1, 2018
Was a great experience the manger on duty was nice and informed on helping me.
July 10, 2018
The guys in the office were super helpful and easy to work with! The price was better than other storage facilites I checked which is always a plus. I would definitely recommend the US Storage Center on Nolensville Pike to anyone!
June 30, 2018
Very smooth process, office personnel were great
June 12, 2018
Our rep was very nice over the phone and gave me the rates of the unit I was looking for and even held the unit without a deposit. I went to the actual US storage center in my area and dealt with Brett. He was super informative and even offered to show us the unit that would be mine. He had it cleaned within an hour of us getting it. Everyone was super professional and friendly. My only complaint is the crazily steep driveway.
June 9, 2018
Friendly and convenient
June 7, 2018
It's been great. Very clear, communicative, and helpful staff!
June 3, 2018
Good. Entrance before the gate is difficult. Steep incline makes it hard to enter code and keep foot on the brake.
May 9, 2018
Best storage in Nashville
April 20, 2018
Brett was incredibly helpful, kind and knowledgable. Appreciated his service very much.
April 20, 2018
My experience at US storage center has been very good so far. Brett at Nolensville location is super helpful and always searching to find a good solution to accommodate. Thank you very much!
April 18, 2018
It was great, everyone was helpful and nice. They got me taken care of in short order and I was on my way, I am thankful for that.
April 18, 2018
Great service
April 18, 2018
Very good customer service.
April 12, 2018
The only negative thing was the increase in rates.
April 10, 2018
The best ever I had. Professionalism, environment excellent.
April 7, 2018
It was good. Personnel was helpful. Just kinda expensive though.
April 5, 2018
We had two storage units for over a year with US Storage Centers. For the most part, it was great and very helpful to us, but I do have one complaint...we had a mouse get into one of our units and it destroyed a sofa and some other items. There was also feces everywhere. I was unaware this was a risk and I think it would have been helpful to have some advice to set traps, etc within our units.
March 23, 2018
Very helpful and seamless transaction
March 22, 2018
Brett was so helpful even when I had to switch locations. All the personnel at both locations very very friendly and helpful.
March 21, 2018
you did a good job
March 8, 2018
Very nice and helpful.
February 28, 2018
Very friendly and accommodating.
February 15, 2018
it was great
February 2, 2018
Mui buen servicio anestidad y seriedad responsables gracias por su servicio
January 27, 2018
Very good Customer Service
January 9, 2018
The customer services was great.
January 5, 2018
Except for the constant change over in staff most things went fine.
December 22, 2017
Very professional and accommodating. My only criticism: temperature controlled areas should have better humidity control. Wonderful workers.
December 22, 2017
Great service, friendly staff. Good facility.
December 21, 2017
Good ,very well organized,smooth operation.
December 7, 2017
Vey good experience
November 30, 2017
Sandy did a great job!!
November 10, 2017
The agent was very helpful as well as knowledgable. I really think she was the reason I chose this facility. The facilities were clean but not sure how climate controlled it was. Overall, the price and product was adequate.
November 5, 2017
Fast and good service
October 31, 2017
The employees are great and very helpful. Our unit is ok but really smells like a mixture of cat urine and mildew. Also the lighting is bad in our section. Other than that, everything is fine.
October 31, 2017
Great staff and clean units! Really appreciated the willingness to change my unit size last minute and getting a good price close to downtown Nashville
October 27, 2017
Sandy is knowledgeable and professional great experience.
October 26, 2017
you were for methanks when i needed you. thanks
October 26, 2017
Very good
October 12, 2017
I felt like a valued customer. The sight manager was extremely helpful and very friendly and professional. She was also very accommodating. It was pouring down rain and she did not hesitate showing me units.
October 10, 2017
very good service
September 26, 2017
Sandy was super helpful and very friendly!!
September 26, 2017
Excellent staff
September 13, 2017
Wonderful service!
September 8, 2017
my experience was very good.
September 7, 2017
Karen was the representative that took care of me. She was very professional
August 25, 2017
Very good. Karen was so helpful; answered every question I had regarding the storage; and showed me a few. She went that extra mile to make feel secured; and to make sure my items safely secured there.
August 23, 2017
Very helpful and quick. It was very clean and the deal I got was well worth it.
August 3, 2017
Great,Ray was awesome
July 30, 2017
Very helpful, informative, and pleasant
July 29, 2017
The gate code did not work. That was irratating
July 29, 2017
Ray, the manager is very accommodating. Great customer service.
July 28, 2017
signing up was pleasant
July 28, 2017
Ray was amazingly kind and very helpful. I was so impressed with his professionalism. He represents the company well.
July 26, 2017
very good, people informative and helpful
July 17, 2017
One recommends storage centers based on location, generally. No one wants a storage unit on the other side of town. Locationally, I also like this one because it's on top of a hill, which would seem to make flooding unlikely, and tornado-style events rarely go through this part of town. Also, it's right across from Maxwell Brothers: best local produce in town. I haven't had this unit long enough to know what the long-term is like, but in the short-term, the customer service was excellent. Both the local manager and the national telephone support were quick to respond and excellent to work with, explaining all the angles.
July 5, 2017
Customer Service was exceptional... warm, friendly, and helpful.
June 9, 2017
Ray was very friendly, helpful, and courteous. The facility is clean and easily accessible.
June 8, 2017
Very friendly. Great first impression. Looking forward to being a longtime customer.
May 23, 2017
Representative Ray was very very helpful and kind. I just came from dealing with rude Cube Smart.
May 22, 2017
Great. It was a good price and very easy
May 18, 2017
After researching many storage centers for my son's dormitory furniture. US Storage center was the most effortless. I worked with Ray over the phone from NY. He recommended the right size unit for our needs. Upon Arrival in Nashville he called to follow on the date we set. At the center the process was seamless. The place is clean and the unit is the perfect size for our needs. We'll definitely use US Storage center again. So far so good.
May 11, 2017
Excellent customer service and Ray was very enjoyable and incredibly helpful.. He resolved my concern immediately and did so in a positive manner. Ray resolved our problem quickly and very affordable to our needs .
May 8, 2017
Although I didn't take the unit when I first inquired about it I was happy to know they remembered me the following weeks later. They honored the discount I was given prior my official purchase(10x10). The gate broke the first night, and we were not happy about that bc that meant anyone could gain access considering it had to be manually pulled open & left open that night until it was fixed. I was also skeptical about the location(on a curvy slope), but I managed my fear. Thank you Karen & Ray for your help.
May 8, 2017
Excellent svc
May 5, 2017
This place has been great. They met all my needs and are very friendly in the office!
April 30, 2017
Ray was a great help and very professional
April 26, 2017
Ray's customer service was great! I feel very confident storing our vintage car at his facility.
April 26, 2017
Friendly staff . clean facility well lit
April 19, 2017
The office was very helpful with providing me information on my unit and updating my information.
April 6, 2017
Awesome customer service and very clean storage departments!!
April 6, 2017
Everybody was very helpful from the beginning and very happy with the service the prices also customer service was very helpful
April 4, 2017
It almost felt unreal. The employees were professional, courteous, and kind,
March 12, 2017
So far so good, the setup process was simple.
February 21, 2017
very pleasant and helpful staff.
February 10, 2017
My experience was pleasant and informative. My needs were met by the friendly and knowledgeable staff. They answered all my questions in a straightforward manner. When I returned later in the day,I was able to secure my unit without further ado.
February 2, 2017
Great Service...The staff showed attention to all our questions and answered all questions we asked...Recommend this site we used (Nolensville Rd Nashville location)
January 28, 2017
So far so good
January 27, 2017
Heather was and has been great! She had a very positive attitude and shes definitely on top of getting things handled.
January 13, 2017
Very good experience checking in. Staff was very friendly and professional. Very upfront about the rules, regulations as well as pricing. The facility looked well maintained with a lot of security cameras all around the property.
January 13, 2017
She was absolutely wonderful! She went above and beyond to help me out when I was in a crazy situation due to weather. The customer service I had was the best I've had anywhere in years. Highly recommend these guys!
January 10, 2017
It was absolutely amazing experience being that it's my first time getting a storage. The two young ladies provided me with excellent customer service In a professional manner and I would definitely recommend this this site to anyone.
January 10, 2017
Friendly and nice people
January 6, 2017
Great staff at this location
January 5, 2017
Heather was a huge help. The process was very easy.
January 4, 2017
Got the indoor unit it is awesome and affordable am very excited
January 1, 2017
Karen was very helpful and professional. She understood my needs and had just what I could use, in fact we started utilizing the spaced the very next day. I would highly recommend your facility to all who are looking for the same needs as mine. Thank you Karen and Happy New Year
December 31, 2016
Manager was very friendly and helpful. He answered all my questions and showed me the units. They were very clean and the prices were very good. I would highly recommend this place.
December 29, 2016
It was great. Karen was very knowledgeable about the sizes of the units and what would most likely fit my needs. She was very friendly and professional and had me set up in less than 30 minutes. I was able to use my unit immediately.
December 22, 2016
all good
December 21, 2016
Quick and easy
December 21, 2016
Good. Will use again
December 21, 2016
Only thing I'd change if I ran the joint would be to let me make my own code to open the gate. I realize its my unit number/last 4 of my DL, but I would have chosen something else. Other than that though perfect place with nicest people.
December 12, 2016
Were very nice and helpful
December 11, 2016
Great place!!!! The lady at the front desk was friendly and helpful with what I needed. Prices are best in this area!!!! Unit was clean and have no trouble getting yo it!! Will recommend to anybody!!!!
December 11, 2016
You guys are doing great and a wonderful job.
December 10, 2016
Everyone was very friendly and the facilities were clean and secure!
December 9, 2016
Everything is professional. Very happy.
December 9, 2016
Great customer service...prices are a little high...in my opinion
December 7, 2016
I had an excellent experience with US storage. Everything is professionally done.