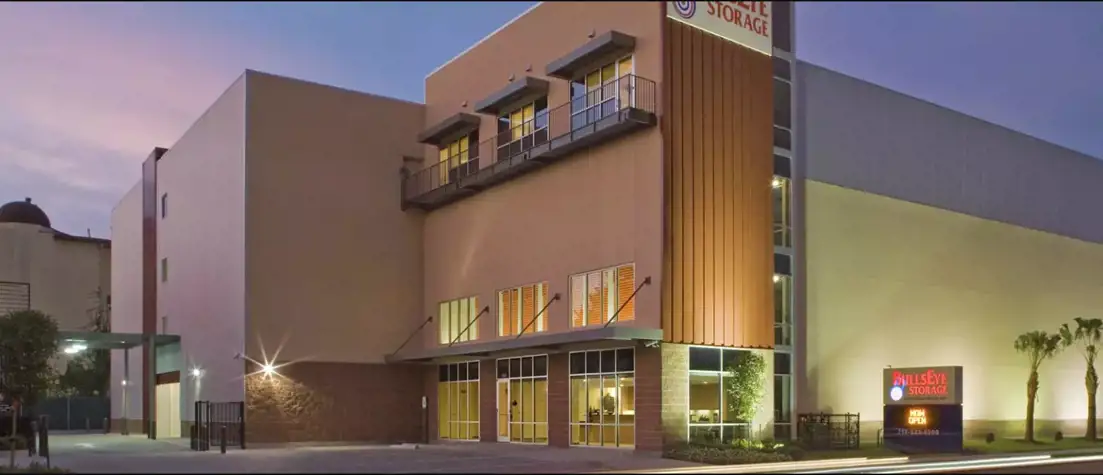 Rent or Hold Your Storage Unit in Minutes.
Location Details
ACCESS HOURS
Mon

6:00am - 9:00pm

Tue

6:00am - 9:00pm

Wed

6:00am - 9:00pm

Thu

6:00am - 9:00pm

Fri

6:00am - 9:00pm

Sat

6:00am - 9:00pm

Sun

6:00am - 9:00pm
OFFICE HOURS
Mon

9:00am - 6:00pm

Tue

9:00am - 6:00pm

Wed

9:00am - 6:00pm

Thu

9:00am - 6:00pm

Fri

9:00am - 6:00pm

Sat

9:00am - 4:00pm
FEATURES AND AMENITIES
Drive Up Access
Climate Control
Passenger Elevators
Electronic Gated Access
Video Recording
Boxes & Moving Supplies
Alarmed Unit
ABOUT THIS LOCATION
Are you in need of a high quality, top-of-the-line Houston self storage facility? You can count on BullsEye Storage! Learn more about the storage features and amenities here. 
Read More
Photos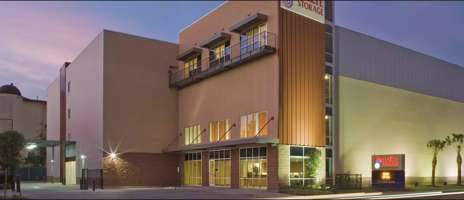 About this Location
Houston Storage Units
Whether you're interested in short-term or long-term storage, our Houston, TX self storage facility offers storage near you that can be utilized for all your personal storage and household storage needs! Our self storage solutions include climate controlled storage units for Houston residents looking for peace of mind all year round. Selecting self storage in Houston, TX is a big decision, and at BullsEye Storage, our friendly staff are on hand to make life easier for you. Our on-site Resident Manager is a storage expert! She can provide money-saving advice on how to store your items in the least amount of space. She is also able to accept UPS/FedEx packages and offer boxes and packing supplies. Be sure to ask our live-in manager about special move-in discounts! 
Self Storage Unit Solutions Customized for You
Our storage units in Houston, TX come in a variety sizes with different features and amenities. At BullsEye Storage, we indoor storage units ranging in size from 5'x5' up to 20'x30'. Our facility has integrated 24-hour recorded video surveillance, individual alarms on the door of your unit, and cut-proof locks. Our tenants receive a PIN code that grants access to the property, the elevator and the storage unit.
The ceilings in our storage units are 12' to 14' high, allowing you plenty of room to stack boxes and fit other long items. Our loading areas are weather-proof and located inside a steel-fenced perimeter for added comfort when bringing in or taking out items. The covered awnings at our entrances are high enough to park a typical moving truck under. There are also two large elevators to make loading and unloading easier. 
Our facility has monthly insect and pest inspection/control performed by experts.
Climate Control Storage
If you have items that may be sensitive to temperature, we offer full 24/365 climate-controlled storage units. We maintain a comfortable temperature around 75 degrees all year, and we have humidity regulation to combat the risk of mold and mildew caused by our damp Houston environment.
Some of our tenants select this option for storing musical instruments, artwork, electronics, and it's popular for pharmaceutical reps to store their samples.
Easy Rental Options
Pre-leases are available to lock in the price of a unit. Rent your storage unit online or over the phone for a quick move in.
Not ready to rent? No worries! Reserve your unit now to lock in today's special discount.
Month-to-month rentals
No credit card required for reservations
No deposit required
Neighborhood Storage Conveniently Located Near You
BullsEye Storage is proud to be a storage solution for residents and businesses throughout Houston, Texas. If you're looking for storage units near you, our self storage facility is a safe and convenient option. Our Houston facility is right off W. Dallas St. between Dunlavy St. and Waugh Dr - just south of the Buffalo Bayou Park and a short drive from Allen's Landing Park, Art Car Museum, and River Oaks Country Club. Many of our tenants reside in 77019, 77006, and 77007 zip codes, making our facility convenient for the residents of River Oaks, Montrose, and Allen Parkway areas.
Top Storage Tips From Our Manager
1. If you have a sofa that is flat on the end, you may want to stand it up on the end to free up more space.
2. When stacking items, make sure you place heavy items on bottom to reduce the risk of the stack being crushed or tipping over.
3. If you have removable legs on a table, try removing them to create more space. But, if the legs don't come off, utilize that space under the table by placing boxes or other items underneath.
4. Place items you may need to retrieve frequently toward the front of your unit – this is especially helpful for people utilizing storage during a remodel. 
FAQs
Q. What size storage unit do I need?
A.
5x5
This is about size of a small walk-in closet and a lot of people like to use these for storing anything from files to Christmas decorations.
5x10
This is one of our most popular sizes for people with apartments and condos who are very active outdoors. We're a couple of blocks from Buffalo Bayou and not far the Discovery Green park, so we get a lot of people storing items like kayaks, bicycles, wagons, and scooters.
10x10
Very popular for fitting the contents of a one-bedroom apartment. It's also a good option for people who are downsizing and need some overflow space. People who are renovating also like this size.
10x15 to 10x20
These are a good option for two-bedroom apartments to a three-bedroom home,
depending on how much you have.
10x25
A large unit like this is a good option for people with a three to four bedroom house. Several businesses like restaurants, interior designers, and home stagers like to use this size for inventory. Home stagers also like to use this when they're moving stuff in and out.
We also have size guide videos you can view by clicking on the size guide located just above the list of units. If you're still not sure what the best option for you would be, we'd love to have you visit our facility for a tour of the different unit sizes. Or feel free to call us if you have questions.
Q. Do I need a credit card to rent?
A. We accept cash, checks, Visa and Mastercard.
Q. How Long Do I need to Rent a Storage Unit?
Conveniently, we rent storage units on a month-to-month basis. You are never locked into a long-term lease agreement.
Q. Do You Offer Discounts or Promotions?
A. Yes! We offer special pricing and promotions for new storage customers such as one month 50% off. You can find our promotions by searching our unit selection above. Each promotion can be found next to the unit pricing and amenities.
Q. Am I allowed to place shelving in my storage unit?
A. Absolutely! Some people put shelving in their units to help organize their space.
How Do I Rent a Storage Unit through Bullseye:
We offer three easy options for renting a storage unit:
1. Hold – click select on our website and you'll be guided through two simple steps
2. Rent Online – click select on our website and you can sign a lease an pay in four easy steps.
3. Rent In Person – visit our facility during normal office hours and bring your ID and form of payment.
Customer Reviews
overall rating, 203 total testimonials
August 12, 2023
Excellent service. Great storage units and cool temperatures inside.
August 1, 2023
I love this location and it's staff my process here with getting my storage has been great
June 8, 2023
Great customer service very accommodating
June 3, 2023
Nice facility, staff helpful, easy process, convenient location
May 30, 2023
Excellent service
May 8, 2023
Lou is a wonderful manager and always incredibly helpful and welcoming when we come to our unit or have questions or issues about access to the building. This is our second time renting a unit at this location and Lou is why we are back!
April 1, 2023
Have had storage units at BullsEye on and off for over a decade. Always a good experience.
See All 203 Reviews
See All 203 Reviews