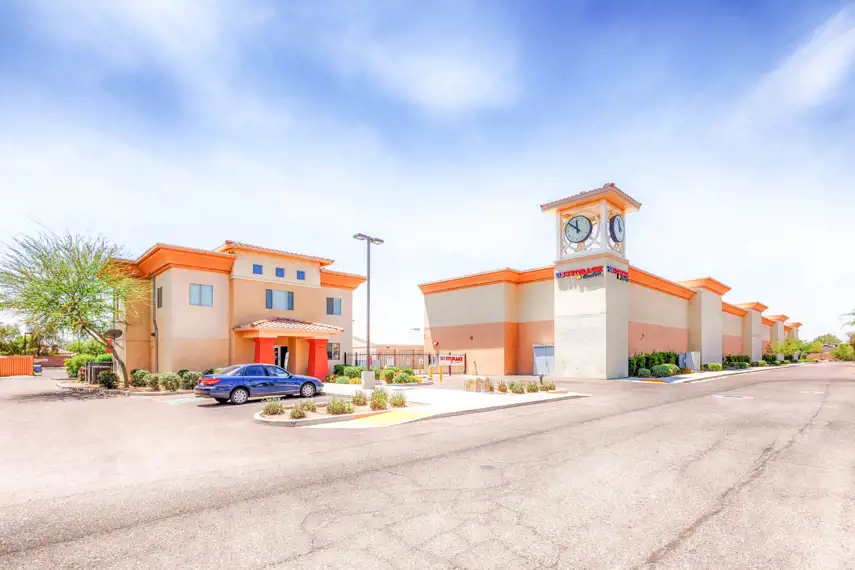 Rent or Hold Your Storage Unit in Minutes.
Location Details
ACCESS HOURS
Mon

6:00am - 10:00pm

Tue

6:00am - 10:00pm

Wed

6:00am - 10:00pm

Thu

6:00am - 10:00pm

Fri

6:00am - 10:00pm

Sat

6:00am - 10:00pm

Sun

6:00am - 10:00pm
OFFICE HOURS
Mon

9:00am - 6:00pm

Tue

9:00am - 6:00pm

Wed

9:00am - 6:00pm

Thu

9:00am - 6:00pm

Fri

9:00am - 6:00pm

Sat

9:00am - 6:00pm

Sun

9:00am - 2:00pm
FEATURES AND AMENITIES
Drive Up Access
Climate Control
Passenger Elevators
Electronic Gated Access
Video Recording
Employee(s) Speak Spanish
Moving Carts
Kure It Certified Location
ABOUT THIS LOCATION
The Best Self Storage in West Phoenix
Read More
Photos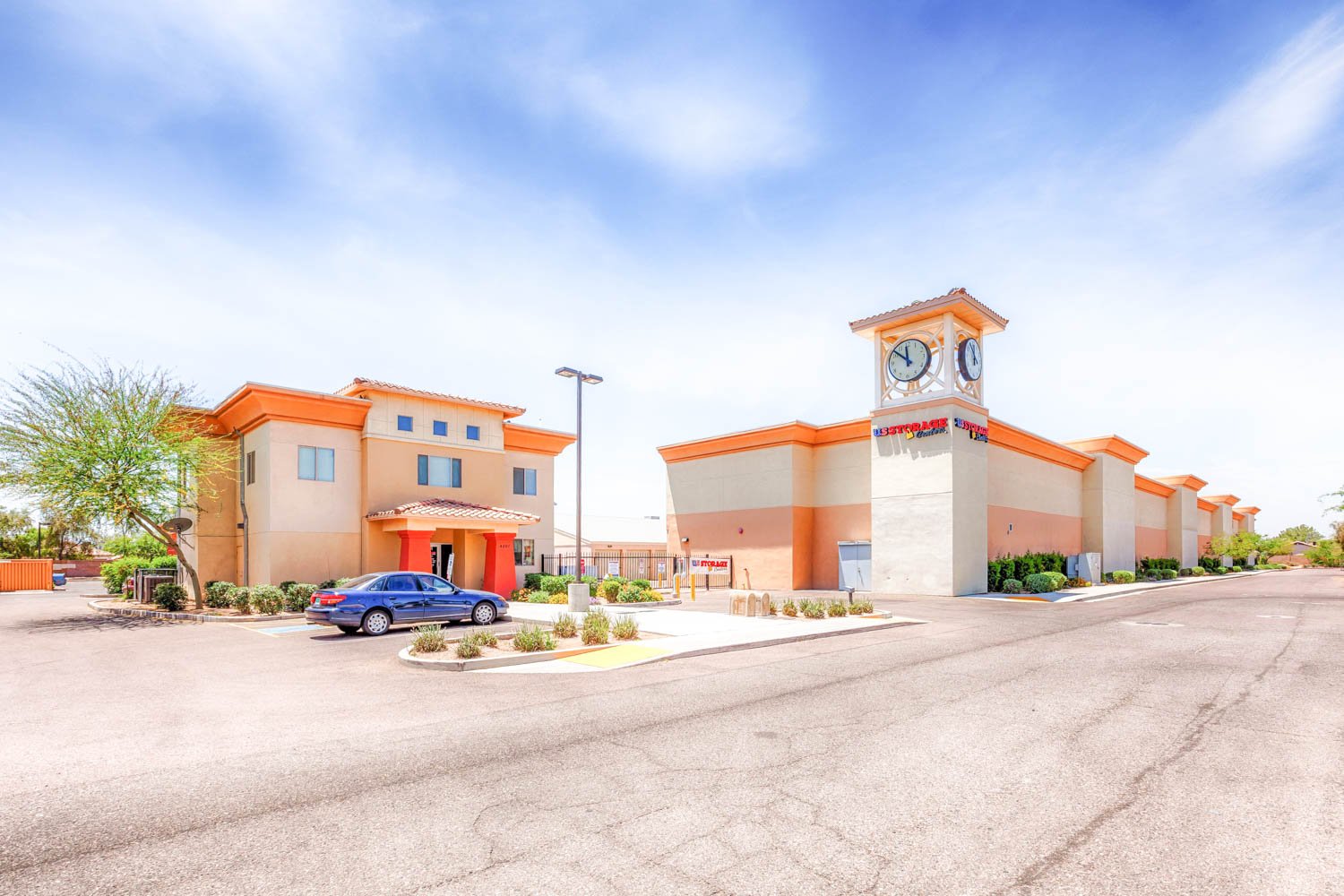 About this Location
Self Storage Facility Features

Our self storage facility offers the best storage units and climate controlled storage units in western Phoenix, Arizona--a great feature when the scorching summer heat hits. This facility also has convenient drive-up storage units, perfect for personal and business storage needs, and extra wide drive aisles for easy access. Covering over 82,432 square feet of rentable storage space, there are 729 storage units ranging in size from 5' x 5' up to 10' x 30'.

Many of our customers are renting self storage for the first time. With years of self storage experience under our belts, we'll be able to answer all of your storage questions. We enjoy listening to our customer's needs and we use that information to identify the best options. From there we invite our customers on tours of the property so they can get a better idea of the size options available to rent. In fact, we're confident that you'll have a positive and productive experience when you visit our location.

Security
Computerized gate access, 24-hour video recording, and an advanced security system are all part of our security features. 
Easy Rental Options
Rent your storage unit online or over the phone for a quick move in. 
Not ready to rent? No worries! Reserve your unit now to lock in today's special discount.
Month-to-month rentals
No credit card required for reservations
No deposit required
Conveniently Located

We're located on the south west corner of West Camelback Road and North 83rd Avenue in the same shopping center as AutoZone, JPMorgan Chase bank, and Papa John's Pizza. The Safeway grocery store and Circle K gas station are across the street from us on the south east corner of North 83rd avenue and Camelback Road.

Customers using Interstate 10 can exit onto North 83rd Avenue and head north just past West Indian School Road. Those using the Agua Fria (highway 101) can easily access our property by exiting onto West Camelback road and then heading west a few blocks past North 91st Avenue, passing by the Walmart Supercenter and Copper Canyon High School.

Many of our customers also come from the neighborhoods just north of us near Grand Canal Linear Park, Glendale Heroes Regional Park. And a lot of our customers also live in the neighborhoods to the east of us surrounding Tomahawk Elementary School.

Community

As the largest city in Arizona and the 6th largest in the nation, Phoenix is a growing, diverse, and entertaining place. Situated perfectly in the desert, Phoenix is the gateway to the Grand Canyon with a rich history of miners, cowboys, Native American heritage and puebloans. Among this ancient history is an aura of sophistication however, with resorts and spas aplenty for those wishing for peaceful relaxation. A diverse cuisine and many upscale shopping areas, boutiques, charming vintage shops, and bargain outlets, make a night on the town enjoyable and full of possibilities.

Phoenix also has a wide variety of outdoor sports with several wildlife parks, a zoo, beautiful mountains, and parks galore. Hiking, biking, climbing, water recreation, and so much more are at your fingertips when you live and stay in Phoenix. For the sports enthusiast, there's always a game going on. As home to the Arizona Diamondbacks, Phoenix Suns, and the Arizona Cardinals, just to name a few, attending a professional sports game is easy to do. If golf is your game, the courses in Phoenix are unlike any you've seen with the exotic desert background, breathtaking views and picturesque landscape. Improving your game is easy among such beauty.

Convenient Office and Access Hours

Office Hours

Monday – Saturday: 9:00 am to 6:00 pm

Sunday: 9:00 am to 5:00 pm

Access Hours

Monday – Sunday: 6:00 am to 9:00 pm

Forms of Payment

It's easy to pay your bill! We accept cash, checks, money orders, Visa, and MasterCard. You can also pay online through our secure client login.

Kure It Participating Facility

As part of our philanthropic efforts, we are an active member of Kure It Round up for Research. Kure It, founded by US Storage Centers chairman Barry Hoeven, raises money for underfunded cancer research.

Facility Products

To help with your move, we sell boxes (sized small - x-large). Wardrobe boxes, packing tape, tape dispensers, mattress covers, bubble wrap, picture moving kits, disc locks, and brass padlocks.


Customer Reviews
overall rating, 465 total testimonials
February 27, 2023
I'm currently still renting a space. The place is clean and well kept. Yolanda Gomez was very helpful and pleasant person the day we started renting.
February 23, 2023
Gentlemen up front was very nice and informative. Will recommend to others.
February 22, 2023
It was great! And everyone was really helpful! My only complaint is the prices that went up $80 to $100 versus the day before
February 16, 2023
I am very happy with the units I am in and Yolanda is the best and please keep her where she is. Everyone is so friendly and very helpful that's why I rent there
February 10, 2023
It was easy and friendly
January 29, 2023
Im happy with the facility and staff, still very glad I made the decision to store here.
January 26, 2023
The best customer service in town
January 8, 2023
Very.. . NICE People
January 3, 2023
The process to rent a storage was simple. The storage is the perfect size and very clean.
December 26, 2022
Very polite and no additional hidden fees very straight forward and to the point.
December 16, 2022
Great service and attention
December 15, 2022
Bery good thanks
December 13, 2022
Very friendly and great customer service.
December 1, 2022
I love the customer service very friendly.
December 1, 2022
They were very friendly, helpful and knowledgeable. The site was very clean and secure which makes me feel good about leaving my items here.
November 19, 2022
The Manager Yolanda, at the Camelback & 83rd Ave location, Keeps the facility clean and the A/C cold. There's lots of room for vehicles to load and unload, and the bathroom is always clean and sanitary like our house. Thanks Yolanda! We have no regrets😊
November 18, 2022
Great consumer service
November 10, 2022
Love it! The location I am using is very clean and secure, amazing staff! Thank you
November 2, 2022
My experience has always been courteous and engaging.
October 22, 2022
Good services
October 21, 2022
Very happy so far. Employees were friendly and helpful. Prices are great and the climate control is great as well.
October 21, 2022
Your folks took good care of me they made it pretty easy to get my rental space
September 27, 2022
The help there was terrific, they the ins and outs of thier storage units. Most of all assurance the quality of what I needed at the best price. Just would like say thank you for your help.
September 16, 2022
Started off great. The process was quick and easy to get started online. It did take awhile to get in because you still need to see someone in person to get in first. The first time we went there was no one there during business hours. We got our lock and code on our second try. Everything went relatively smoothly or so we thought. The next time we saw someone on location it was while we were dropping things off to our unit. I was then rudely questioned by some women who accused us of coming in using her code and why were we there. She then demanded to know what code we used to get into the building. I left our truck unattended and came back to the door open. If we hadn't already paid for the unit I wouldn't go here.
September 15, 2022
That's the best Storage I've never had a problem I've been having them for two years they're really helpful the front office receptionist is very respectful and helpful I would recommend that Storage plus they have AC in the units
September 8, 2022
Very friendly and professional Technicians,I have already recommended family and friends😀
September 1, 2022
Spectacular
August 23, 2022
They where very helpful and I would recommend it to everyone who ever need a storage
July 28, 2022
Muy amables
July 22, 2022
Very good. Your clerk was very attentive, and took time to explain your policies. She took her time to answer all my questions as well. And she did this despite your computer being down. -Daniele Queen
July 15, 2022
Site Staff/Yolanda made me feel welcomed. She took the time to give me a tour and locate my unit. Plus the grounds were really clean.
July 4, 2022
Yolanda provided a great service , she was fast and very informative and I loved the service she gave
June 29, 2022
Yolanda was very helpful, friendly, Show us the unit and around the lot . We have zero complaints. Thank you Yolanda !
June 28, 2022
Great service
June 27, 2022
Front desk lady very nice.
June 7, 2022
Fast, convient, friendly. Excellent customer service.
June 4, 2022
I've been a customer for awhile now and I everytime I had questions or needed help Yolanda was always willing to help and answer me. I appreciate this place.
June 1, 2022
The experience was okay no issues the only problem is is the pricing but overall she did help me out but still at the end of the day I'm the person who is giving money to protect my stuff I looked everywhere else and their price was still low than what yours were only issue was they did not have the unit size I was looking for but they said if they had that size the price is a lot less than what I'm paying for with you guys but I went ahead and stayed with you guys only because the unit that they had was not air-cooled and a few accommodations that were helpful but there accommodation was not helpful at the other storage facility so your prices a little too high but their prices was just fair but a few other units not cooled down like what you have either way it's still good that I'm still with you the sad part is I just don't like how the pricing is for how you guys keep raising the price is very much unfair so no matter what you tell me that you have to raise the price or rent I should say is still considered unfair but like I said you guys had air cool you had the only unit I was happy but still if he with the price either way that's why I gave a nine that it's a possibility
May 24, 2022
I love my experience the people were very friendly and helpful
May 21, 2022
Tyana had a Friendly greeting, and very personable Helpful in showing how to work gate and opening my storage unit. Clean, well kept
May 21, 2022
Jay gave me an offer l couldn't refuse and I enjoyed his customer service.
May 20, 2022
The manager was extremely helpful and explained the procedures. However, I am confused with your emails that you sent me. One says my monthly payment is $125.25 and then a couple of days ago I got one that says my monthly rent is $141. I will check with the manager because I xonot
May 17, 2022
It was very quick and pleasant. Very professional. The surrounding grounds office & storage unit was very clean. The office lady very nice. Give her a raise
May 8, 2022
The lady that rented the place to me I can't remember her name right now she's awesome
May 3, 2022
Very professional. Management is very understanding and very friendly. Clean environment and love that this place is very secured when it comes to security or our units.
May 3, 2022
Great, very helpful
April 12, 2022
Jay was fatastic despite having major computer issues. My visit ended with having to come back the next day to finalize my storage rental. Jay was very apologetic which was appreciated. Great customer service will be the reason I will send referrals your way. Thank you. Karen Davis
April 5, 2022
Good experience
April 5, 2022
Jay was very helpful! Made us feel comfortable.
March 16, 2022
Good evening this is one of the best storage in AZ Jay is the best 👌 👍
March 11, 2022
Very good and sure my property is going to be safe
March 1, 2022
The experience was very easy. The representative was very friendly and knowledgeable. Despite encountering severe computer problems the representative continued to smile and make the process as easy as possible.
February 28, 2022
Very helpful, respectful, friendly, & clean environment. Would totally go back. Thanks
February 28, 2022
Renting my storage unit was easy and fast. Yolanda was great. Very nice and helpful. Great customer service
February 14, 2022
Ok, definitely great customer service.
February 9, 2022
Yolanda was great, very helpful and informative.
February 7, 2022
Very happy w/ the service
February 3, 2022
Very good and very clean the sales lady was very helpful
February 1, 2022
Yolanda had amazing customer service! Truly happy I had her.
January 29, 2022
Great Yolanda was a great help.
January 28, 2022
Dealing with Yolanda made it the easiest thing I ever did.
January 27, 2022
Good customer service
January 25, 2022
Passing by
January 21, 2022
Yolonda was very helpful and friendly.
January 20, 2022
Everything was smooth and simple to get a unit so no problems at all. Yolanda was very helpful, kind and did her best making sure I got the size I needed and in a fast time so thanks to her I'm very happy with my choice.
January 18, 2022
Yolanda Gomez was very friendly and helpful showed me around the storages and I would recommend any of my friends to do business with US Storagee Centers she was great
January 15, 2022
Yolanda was very helpful right away I felt very welcomed.she was nice and fast it was so easy and she explains everything to you.
January 2, 2022
Great experience. Friendly and quick service.
January 2, 2022
This is my 3rd time in 4 yrs. which shows my satis. Yolanda, Jay, others, great! Edna
December 12, 2021
Friendly staff, convenient local, bit pricey
December 2, 2021
We had good experience with you yesterday and we needed the truck for another day there was no problems at all. Thanks for your help you guys.
November 18, 2021
She was extremely friendly and nice and made sure all questions I would of had were answered
November 9, 2021
Staff here is friendly and knowledgeable. Great storage place.
November 8, 2021
Very helpful, informative and kind. Thank you!
November 7, 2021
Good but internet was down and I was there over an hour. The website said there were several units available but the day prior the lady said there were none.
September 20, 2021
The manager Hunter went above and beyond to help me. It was extremely hot and he helped me and brought me water. What a lifesaver. I am so fortunate he was there to help me.
September 20, 2021
Nice people and understanding and place nice and clean and everything organized very helpful love it
September 8, 2021
So far so good thank you
August 8, 2021
Very pleasant
July 19, 2021
It's been great so far. Easy access, Clean and secure property, great customer service and well priced. I am happy I chose this storage facility for my needs.
July 14, 2021
Very good very good muy buena atencion trato y deverian de ser todos los empleados asi
July 9, 2021
Ylonda at the US Storage I used was very helpful.
July 5, 2021
Very happy with the employees working there. They are courteous, friendly and very helpful.
June 30, 2021
Muy buena atención amabilidad buenos precios lugar muy limpio contestan atiempo buena ubicación
June 28, 2021
Yolanda was nice and very helpful. The location is perfect for me and accessibility is great. I would recommend this place highly to anyone.
June 14, 2021
Best storage experience I've had.
June 13, 2021
It was fast and easy.
June 9, 2021
I've been with you guys for only almost a month and I like it a lot still very much, and I'd recommend to someone.
June 8, 2021
My experience with you guys is great you have good service quality prices and is really considerate about the customer and what's going on before you decide to make decisions and reach out to see what's going on in case they're late to see if something happened or not I just love you guys and Yolanda it's very very great at her job and helpful she is all about the customer and goes to next mile to make sure that the customer is happy so I can't complain with that shout out to us stories shout out to Yolanda and shout out to us storage staff members.
June 4, 2021
Yolada was so nice , I really appreciate how nice she was to me today , she was very helpful . Awesome customer service will definitely recommend to family and friends 😊💕
June 1, 2021
Everything was great!
May 30, 2021
very friendly and accurate on pricing. storage procedures were clear and informative
May 27, 2021
The first time I rented, Yolanda, was so wonderful in every way. Efficient, kind, accommodating, friendly, helpful, etc. So I actually went out of my way to rent from US storage a second time, since two years ago. Knowing Yolanda was the manager. Jay was also extremely helpful and kind. The young lady that took care of me this time even got me a high chair to sit on as she was helping me because I have back issues! I am thankful for the whole staff having an attitude of making me feel like I am important in taking care of my personal needs in regard to storing my belongings. Respectfully, Edna Mae Jamsgard (3008 unit)
May 19, 2021
Very happy and please with the way he explained the policy too me..
May 18, 2021
Very nice people and curious
May 4, 2021
The person that help me with my storage she was very nice and friendly I would refer your storage facility to family and friends thank you
April 26, 2021
They're remodeling right now but the customer service was great Yolanda treated me very well. She didn't treat me like a disposable contract.
April 24, 2021
The manager was extremely helpful, friendly & proactive. She made everything much easier. Even when I was stuck behind the gate due to a system error at the facility, she came out after hours and worked hard to sort it out. She's a wonderful asset to the company.
April 23, 2021
It was smooth and easy. Jay at the front office was helpful and explained everything good.
April 22, 2021
Feel safe , you guys are awesome
April 19, 2021
It's was good. Yolanda was very helpful and kind. We appreciate the input that was given to us.
April 15, 2021
All good! Great Service!
April 8, 2021
Great customer service. Very attentive to individual needs
April 8, 2021
Friendly and great customer service as well as reasonable pricing on the units!
March 31, 2021
Yolanda was awesome very informative she gave me great options detailed information and always had a positive attitude I had an reservation at a different storage facility but decided to go with us storage due to the quality of customer service Yolanda provided I was very comfortable and content with all the information she provided thanks again Yolanda you are awesome
March 30, 2021
Yes we were in there and the lady Yolanda was super friendly we loved her customer service 😊
March 16, 2021
Spoke with Hunter! Very good customer service!
March 9, 2021
Very friendly staff
March 6, 2021
Amazing ! Very helpful staff , good location, affordable safety.
March 2, 2021
I went in on 3 different occasions and worked with 4 different people. They were ALL friendly, knowledgeable and helpful! Their prices are also competitive and they offered a discount! Which no other local storage provider does.
February 26, 2021
Great experience. Easy and fast. Facility is well maintained and Yolanda was nice to work with.
February 26, 2021
We came in on Saturday afternoon, February 20th to rent our space. I believe the gentleman at the desk was Sam, however, if I am wrong I do apologize. He was genuinely friendly, knowledgeable and helpful.
February 6, 2021
Professional, personable, & knowledgeable. Made the whole process fast & easy .
February 3, 2021
It was great! It was quick and easy
January 26, 2021
Jay was the best !! Very professional very knowledgeable
January 21, 2021
Hi! My experience was awesome. Desk clerk was very professional, nice and courteous. Thank you! God bless. Have a great day!
January 17, 2021
Very friendly and clean. I felt Jay was honest and straight to the point. He was very thorough and explained how everything works. My unit was clean and very easy to access. Thank you
January 6, 2021
Very clean respectful showed me different units and prices units are very clean
December 4, 2020
I enjoyed, the services provided
December 2, 2020
He was very helpful
December 1, 2020
Luis was very courteous and helpful. The check in process was simple and comfortable
December 1, 2020
We felt great about the experience 😊. Jay was very attentive and friendly. Great customer service!
December 1, 2020
Luis was a great customer rep. He explained everything in detail and gave me a tour of the facility. He deserves a raise
November 30, 2020
Great Company
November 17, 2020
Jay had an excellent service and he did it with a smile
October 20, 2020
Jay was awesome! He knows his job and was very friendly.
October 16, 2020
I had a wonderful experience customer service was very polite and very experienced, made my day!😀
October 15, 2020
It was amazing. The lady that helped me what extremely smart and helpful.
October 13, 2020
Answered my questions and concerns
October 7, 2020
Good so far
October 1, 2020
I had a great experience Yolanda was very informative and so friendly thanks for helping me find my storage needs so quickly keep up the great work!
September 30, 2020
Jay was very professional and helpful, had such a good experience
September 24, 2020
I was very satisfied with the service given by Jay he was great and attentive to all of our needs please applaud him for his great work he deserves a raise!!!!!
September 22, 2020
Very Pleasant and Yolanda was very helpful and knowledgeable as knowing exactly what I needed for a new storage unit. The facility was nice neat and organized well-kept and clean. As a customer it shows that your employees enjoy working there. Thank you so much for the wonder experience I'll be sure to refer my friends and family about US storage.
September 15, 2020
she was awesome sorry had to cancel unit
September 13, 2020
It was great everyone was helpful and courteous. Would recommend this to others
August 25, 2020
Good customer service
August 23, 2020
I can always depend on great help from Yolanda and Jay, They are a great assets to your company. Helpful, professional,and ready to help in any way. Thanks Guys for all your help. Juan Cruz
August 18, 2020
Good and I like courtesies and professional service
August 18, 2020
Felt a great experience, Jay was very helpful and has great customer service! Will definitely recommend US Storage!
August 3, 2020
Great service
July 31, 2020
it was great no issues at all
July 31, 2020
It was quick and easy. Had my unit in no time.
July 28, 2020
Very good friendly
July 14, 2020
Great service ! Very polite and professional, Jay helped us find exactly what we were looking for ! Thanks again !
July 7, 2020
Very helpfull, imformative where there were issues they were quick to fix and they were willing to work with us highly would recommend to friends and family.
June 30, 2020
There were a whole lot of screwups but Yolanda the mànager came through and made my storage experience so much better
June 23, 2020
Great experience!
June 2, 2020
Fantastic, Ms.Yolanda was great over the phone and she helped right away. Enjoyed my experience with US Storage and with her. Thank you.
May 27, 2020
Service was great as always
May 21, 2020
Aside from the restroom. Remaining closed it's been great. Staff are courteous and friendly. Thx again.
May 15, 2020
Awesome, Yolonda and Jay are Great. Very helpful, friendly, courteous and most of all very knowledgeable about the needs for my clients that I refer to the location @ 83rd and Camelback. Thanks So Much Guys, John Cruz
May 11, 2020
The lady that helped me was really friendly and answer all my questions. I definitely recomend this place to all my friends and family.
April 30, 2020
Convenient easy and quick
April 25, 2020
Good experience. Yolana very helpful. Prices are great. Climate controlled even.
April 14, 2020
It was a great experience and the manager was amazing and found me what I needed for my stuff
April 6, 2020
I feel my stuff is safe and that they are very concerned bout my belongings! Thnk u
March 20, 2020
Yolanda was great. Help me with a good prices also showed me around. Her office was very clean.
March 17, 2020
It was great and the staff was nice and had answers to my questions. I would recommend anyone to rent a storage from them.
March 12, 2020
It was great. Jay was a big help & he worked with me over the phone so when I arrived to Arizona from Northern California. It was quick & easy. Jay was very helpful. Great customer service.
March 12, 2020
Great the store manager had awsome customer service!
March 11, 2020
Great friendly customer service. Overall process was very quick and efficient! No lengthy contracts. Yolanda was great in providing explanations and responses to questions.
March 5, 2020
Let it be known that your employees, Yolanda and Jay are the Best. They are Helpful,Courteous, and demonstrate much knowledge of the storage business. I have been to a couple of your other locations and believe me, they can learn a lot from these Pros. Thanks Juan ruz
March 5, 2020
The staff is very friendly.
February 19, 2020
Awesome, I had been a customer before, so when I was in the need for storage again I did not hesitate to inquire to see if you had a unit available.
February 19, 2020
Great People
February 12, 2020
It was awesome. The staff there are very professional and facility is very clean.
February 12, 2020
Great customer service and friendly employees!
February 11, 2020
Quick and easy
February 1, 2020
Jay helped us, I was very pleased.
January 30, 2020
Good...Jay was real helpful
January 28, 2020
Muy limpios, se se ve desorden con los otros renteros, muy seguros y las unidades están en muy buen estado
January 28, 2020
The best staff I have been using this place off and on for several years now. Yolanda is excellent with everything. There is not another place I would consider.
January 26, 2020
Very friendly! Very clean
January 22, 2020
DRIVE BY
January 21, 2020
Yolanda was extremely helpful. Online reservation makes it easy to setup.
January 17, 2020
great facility clean and organized. staff was very good great to deal with
January 16, 2020
Very personable interaction. Very polite and professional. Thank you.. will definitely recommend.
January 3, 2020
Great customer service.
December 31, 2019
Very pleased thank you for all the help
December 17, 2019
Love US storage solutions!
December 17, 2019
Very pleasant experience.
December 3, 2019
The manager was very helpful in letting us know our options. Glad you gave us access to the lockers on a holiday.
November 25, 2019
Very friendly
October 22, 2019
was needing a unit close to my apartment to get my stuff closer to me , I thought it would be harder to get a unit , a check online found this company , put a hold online for a unit , went to the location and set everything up , Yolanda was very courteous
October 22, 2019
It was a great experience setting up my storage
October 8, 2019
I had no issues getting a unit. Very positive experience overall.
October 4, 2019
Yolanda gave us very good service.
September 24, 2019
Bien gracias Yolanda Es una excelente persona para atender.
September 14, 2019
Very satisfied
September 12, 2019
This was my crust time getting a storage unit and the manager Yolanda on 75Th and camelback was more than helpful! She set everything up for me in an easy to understand way and answered all of my questions with a great attitude! Once I moved my stuff in she was once again so friendly and helpful and made the experience a great one.
August 21, 2019
My experience so far has been excellent!Yolanda was very versed in her position very very helpful,and answered all of my questions fully,I thank her alot.
August 15, 2019
So far, over several years, it has been pretty positive. I am a happy camper.
August 6, 2019
Great experience
July 30, 2019
I really liked the experience because the staff was very professional and very nice. They made everything very easy to get signed up It's very clean and my unit is conveniently located close to the office
July 22, 2019
easy access hours, drive up air conditioned storage units are very convenient, and online discount price was excellent.
July 21, 2019
Customer service goes along away, and this place is amazing! Yolanda(hope I'm spelling it right) is so kind and professional. She's there to help with any questions. Defentitly made getting a storage unit from this location awhole lot better.
July 11, 2019
Great customer Service.
July 9, 2019
Customer service is great!!
July 7, 2019
The office lady was amazing. Very understanding of what me and my family had just went through. It was a quick process she explained everything and we knew what to expect.
May 29, 2019
Great customer service pricing a little high
May 22, 2019
Well I only have a few days there but I will say the person that help I think his name is Jay is awesome I honestly picked that storage facility because he made me feel like family.
May 22, 2019
I really like the fact that the storage is cool/fresh inside I would for sure recommend this to family and friends.
May 21, 2019
The guy that I dealt with was very professional and help me understand how big the size wasn't how much I could fit there and the starch that I chose
May 15, 2019
I felt stress free! US Storage took care of all my needs! I am very satisfied!
May 4, 2019
I am so sorry that I forgot the front office lady, but she is very helpful. Thank you so much!
April 30, 2019
The experience was great even with the printer not working. The front desk person was very thorough with information and made sure I received all information needed to choose the correct storage unit for my needs. I would recommend this to my friends.
April 29, 2019
So far they offered the best service and attention compared to some of the competitors in town.
April 28, 2019
Great place for storage
April 27, 2019
I was very pleased with the service, I needed a second storage unit , after inquiring about it Jay set me up with a unit within 30 minutes.
April 26, 2019
I had a very informative and professional time with the Rep. Majestic. She was very through even though it was her first day at this particular location. I will be referring my friends to this location for any of there storage needs.
March 25, 2019
Very courteous help, and always friendly. Definitely a safe complex.
March 19, 2019
Yolanda and Jay are the best when it comes to Customer Service. i refer Clients all the time and they have nothing but great things to say about their service. thanks for all the great help. Juan Cruz
March 7, 2019
It was great except no payment reminders set up from the initial start.
March 7, 2019
Very courteous and friendly staff. Showed us the various sizes available and prices. Very neat and clean. We plan on keeping it for years.
March 5, 2019
Really great customer service.
March 1, 2019
quick and easy paperwork.
March 1, 2019
yolanda help me a lot. thx yolanda
November 26, 2018
Very helpful. Your personnel are very kindly. No complain
October 18, 2018
Amanda was great!
October 11, 2018
Really good!!! Excellent!!!
October 3, 2018
It was awesome! Very friendly staff. Yolanda was great. Thank you
September 25, 2018
Awesome customer service, Jay is great and very friendly. He was able to help with finding the correct size unit. Great place to go!
September 19, 2018
I was greeted very nicely and professional. They accommodated me just as I wished. Thank you for all your help. Jeremy
September 12, 2018
Yolanda and Jay are the Best! Very professional, Helpful ans Courteous. Your company is very lucky to have such Great Employees. Thanks So Much for all Your help. Juan Cruz
September 12, 2018
Very happy. Excellent service.
September 5, 2018
It was painless, you guys are thoughtfull. Very clean and check each door. I did notice that someone was smoking inside by my son's unit other than that we're very comfortable having US Storage as our provider.
August 30, 2018
Great. It was easy to sign up and great customer service.
August 28, 2018
Very good
August 23, 2018
Yolanda was extremely help full and suggestive 👍
August 16, 2018
Jay was very friendly and helpful and a very nice gentleman
August 6, 2018
Great, professional I would recommend your establishment
July 17, 2018
Very pleased.
July 13, 2018
Very good experience place is very clean and Jason is very nice outgoing guy and works very quickly and knows what he is doing. He follows up often to make sure we dont need anything and if so he gets whatever is needed right away i am really happy with this storage and working with Jason he is awesome
July 9, 2018
I am 100 % satisfied with my experience and I would highly recommend this company!
June 30, 2018
Very helpful
June 30, 2018
Great service great prices
June 15, 2018
Very clean place, staff is great and informative.
June 14, 2018
Perfect location,clean, and staff was very friendly.will recommend us storage to family and friends
June 12, 2018
Yolanda and Jay are the Best !!!!!! Thanks for all your help like always. John Cruz
June 1, 2018
Yolanda was very friendly and knowledgeable. She explained everything in full detail, and answered all of my questions with ease. I'm glad I chose this location for my storage needs.
May 30, 2018
Jay was very helpful and a real pro. We told him what we needed and he gave us a good unit for our money.
April 27, 2018
Great service,friendly staff,nice clean units
April 18, 2018
Friendly staff and well kept
April 8, 2018
All was good! Your employees were great!!
April 7, 2018
Nice, quiet place and well priced. Staff was helpful but slow moving.
April 5, 2018
Good so far
April 5, 2018
I like the service, the Two ladies at the front desk were very helpful. even at the beginning the military discount wasn't applied as it was suppose to but the discount was applied to the other monthly payments.
April 3, 2018
Wonderful staff. Very helpful.
March 7, 2018
Customer service was great. They were able to find the right size storage for my belongings. Property was very well maintained and unit was very clean upon arrival. I would recommend this to everyone.
March 2, 2018
Very friendly staff, clean units
February 28, 2018
Jay did an unbelievable job, answered all of my questions and went above and beyond. Is a pleasure to do business with such a solid company. Thanks again.
February 23, 2018
Yolanda and Jay are the best,very professional, great customer service. If you have questions they have the answers. Great job Guys. Take care of them. Thanks John
February 20, 2018
Yolanda does a great job, but did have problems getting through on office phone.
February 13, 2018
Jay & Yolanda are great and really work with you on what you need. Have been there for almost 3 yrs.
February 12, 2018
Very helpful.
February 8, 2018
Very welcoming Friendly staff and a nice clean environment. Could honestly say better then the previous storage Facility's I've had
February 6, 2018
The place was always so clean and neat Personnel was very helpful
February 6, 2018
The lady I think her name was Yolanda Gomez was very helpful and very patience
February 6, 2018
Hallo. Thank you very much four your service.
February 2, 2018
Great experience great facility very clean property and the unit I rented was spotlessly clean the manager Yolanda was very friendly and helpful, would recommend anyone I know to rent here A++++++++++
January 29, 2018
We had a good experience, however the rental unit was quite inconvenient to access. The hours nearly mirrored our work schedules during the week and weekends. It would have been a bit better if you were 24 hour access or at least 10-7 pm.
January 25, 2018
I was satisfied
January 18, 2018
Very understanding of staff of peoples emergencies.
January 15, 2018
Great customer service
January 3, 2018
It was what i needed at the time. It was close. It was a good price. I got a discount for being a federal employee. Then the price was raised up. I got a move-in discount. Thanks.
December 8, 2017
Yolanda and Jay are very professional,Helpful and very courteous. They maintain the property to its highest standards, always very clean, both outside and in the buildings. Great job Guys. Thanks John Cruz
November 17, 2017
great service.
November 14, 2017
My husband and I are very happy with this place. Jay was the one who helped us and showed us around. Great customer service! Also, affordable prices! We will definitely come back if we need a storage again.
November 10, 2017
I'm new, however the service and experience has been great.
November 6, 2017
Yolanda and Jay you guys are the BEST! keep up the great work. Many Thanks, John Cruz
November 6, 2017
The management knows how to put the customer in the right storage unit that best suits there needs.
November 2, 2017
The storage centers is a very clean and well accommodated storage place I will continue to keep my storage as long as I can thank you guys.
October 31, 2017
VERY GOOD
October 26, 2017
My last visit to the facility and the employee that helped me was nice and was able to help me get what I needed to accomplish done without any hassle. I've been using this facility for about 10 years or close to it. Thanks again.
October 25, 2017
Vivian is a true professional.
October 25, 2017
Staff was very welcoming and friendly 🤗 very professional
October 24, 2017
Jay was awesome and did a great job of setting me up in a unit that fit my neads
October 24, 2017
Very friendly staff and always happy to help out. Storage is great and always checked to make sure your storage is locked and safe.
September 26, 2017
Jay was awesome and helpful. Very nice person.
September 26, 2017
You have Great service and friendly people working at this lication.very clean place I need to add. Customer service 100% thank you for making me feel welcomed and answering all my questions.
September 18, 2017
You all are great good ppl working and got great help good deal I appreciate it
September 6, 2017
Hospitality was Great!Yolanda was Very patient & helpful!
September 1, 2017
Muy satisfactorio Muy hamable.
August 31, 2017
The manager was very professional and courteous and helpful.
August 30, 2017
Great crew at 83rd and Camelback,I deal with other storage facilities around the valley, And their people for most parts are a little rude. Like it a bother to ask questions. Thanks Yolanda and Jay.John Cruz
August 27, 2017
My friend put my car into storage.. He said it was ok
August 7, 2017
Offer the ability to get your last month prorated based on days used. Not fair for someone to cancel it as if the first but have to pay for the entire month. You get paid twice if you rented it out again that same month. That sounds like bad business to me which is why I'm keeping mine the rest of this month even though it's empty.
August 4, 2017
The lady who helped us out was very nice. She even opened the door and stayed late to get us set up with a unit.
August 2, 2017
Jay helped me out and was very friendly. Storage unit was very clean.
July 26, 2017
Yolanda and Jay are the BEST,Very helpful with any needs for my clients.I recommend all my friends and clients to your facility. Your new lighting is great. Thanks again for all the great service. Thanks, John Cruz
July 26, 2017
Very nice, pleasant office and managers.
July 17, 2017
Nice storage and I love the location
July 5, 2017
Very courteous and professional
June 29, 2017
The guy that was there was very helpful
June 20, 2017
Awsome experience with this US Storage Center. The staff are very friendly and helpful.
June 17, 2017
Your staff is wonderful and extremely helpful
June 15, 2017
Every thing is going well
June 9, 2017
Awesome customer service thank u Jay for everything
June 7, 2017
Office staff were super friendly and helpful on phone and I person. Clean site, easy access from road but secure.
June 4, 2017
I was stressed, that day, in a hurry The girls were just wonderful, friendly and efficient Great job
June 3, 2017
They were very helpful and worked with me to get the best deal. I need a unit immediately and they did just that for me. If it wasn't creepy I could have kissed them! Lol jk but the staff was amazing and units were clean and perfect size
June 3, 2017
Every time I go to the office the person behind the desk is friendly and helpful, last time I went there on 5/28 she was by herself, swamped with work and still very friendly.
May 24, 2017
Customer Service was Awesome Jay is really friendly!!
May 24, 2017
It was great jay was nice and helpful
May 22, 2017
Wonderful experience great customer service and super quick.
May 21, 2017
The lady in the office was very helpful and extremely nice and eager to help and answer any questions we had. The prices of the units beats anyone elses for the same amenities.I'm very happy with the service and unit that I rented and will recommend your company to anyone in need of storage space.
May 21, 2017
Jay, did an amazing job helping me get a storage shed. He even brought me a bottle of water, to rescue me in the heat. I would highly recommend this place.
May 20, 2017
It was great yolanda was a lot off help
May 14, 2017
Quick and friendly service when we went to rent a unit on Saturday. Clean and easy access. Jay was awesome and very helpful.
May 9, 2017
Real nice environment really clean i felt comfortable leaving my belongings with know worries
May 6, 2017
Very helpful and on the same day helped me get a storage. Very content with the customer service.
May 5, 2017
Very friendly and very helpful
May 4, 2017
Very friendly and capable. Had my best interests in mind. I really appreciate the experience.
April 30, 2017
Its my second time back. You guys are awesome! The lady at the front desk is extremely friendly and helpful. It's definitely improved.
April 27, 2017
I thought the customer service was fantastic and the option they gave were great
April 20, 2017
Very friendly and knowledgeable staff facilities look clean and secure
April 19, 2017
All is well. KK